Sitara Diamond City Faisalabad is a prestigious residential project located in the heart of Faisalabad, offering a blend of modern living and luxurious amenities. This article provides an in-depth analysis of Sitara Diamond City, encompassing its payment plan, location map, and various aspects that make it an attractive investment opportunity. Whether you are considering purchasing a property for personal use or seeking lucrative investment options, this article will guide you through the key features, payment plans, and location advantages of Sitara Diamond City Faisalabad.
Overview of Sitara Diamond City
Sitara Diamond City Faisalabad is a prestigious residential project that offers a modern and luxurious lifestyle in the heart of Faisalabad. Developed by Sitara Properties, this gated community aims to provide residents with a serene environment, top-notch amenities, and a vibrant community.
Background and Development History
Sitara Diamond City has an impressive development history, boasting successful projects that have earned Sitara Properties a reputation for excellence. With a strong commitment to quality and innovation, Sitara Properties has established itself as a trusted developer in the real estate industry. Sitara Diamond City draws on this expertise to create a truly exceptional living experience.
Sitara Diamond City Faisalabad Payment Plan
Sitara Diamond City offers a range of pricing options to cater to different budgets and preferences. Whether you're looking for a small apartment or a spacious villa, there is a variety of residential options available. The pricing structure is designed to be flexible, ensuring that you can find a home that suits your needs without breaking the bank.
To make homeownership more accessible, Sitara Diamond City provides convenient down payment and installment plans. With a reasonable down payment, you can secure your dream home and pay the remaining amount over a convenient period. The installment plans are designed to be affordable, allowing you to comfortably manage your finances while investing in your future.
Sitara Diamond City understands the importance of incentives and rewards. To encourage potential buyers, they offer special discounts and incentives, making the investment even more attractive. These discounts can range from waived processing fees to reduced down payment options. Keep an eye out for these promotions to make the most of your investment.
Sitara Diamond City Faisalabad Location Map
Sitara Diamond City enjoys a prime location in Faisalabad, making it easily accessible from all parts of the city. Situated in a well-connected area, residents can take advantage of the excellent road network and public transportation facilities to navigate the city conveniently. The strategic location ensures that you're just a stone's throw away from all the major attractions and commercial centers.
If you really want to live in an idyllic and facilitated way while surrounded by all the beneficial spots, choose Sitara Diamond City. It is located on Main Satiana Road Faisalabad which has become a hub of modern developments in this city. Its value and demand will definitely increase if we consider the progressive and remarkable work going here and making it one of the most developed locations of Faisalabad.
Living in Sitara Diamond City means having access to a plethora of nearby facilities and infrastructure. From schools and hospitals to shopping malls and recreational centers, everything you need is just a short distance away. The well-developed infrastructure in the vicinity ensures that you have easy access to essential services and entertainment options without having to travel far.
The location of Sitara Diamond City holds great potential for future development. As the surrounding area grows and develops, property values are likely to appreciate, making it a smart investment for the long term. With ongoing development projects and planned infrastructure improvements, the area is set to become even more vibrant and sought-after in the years to come.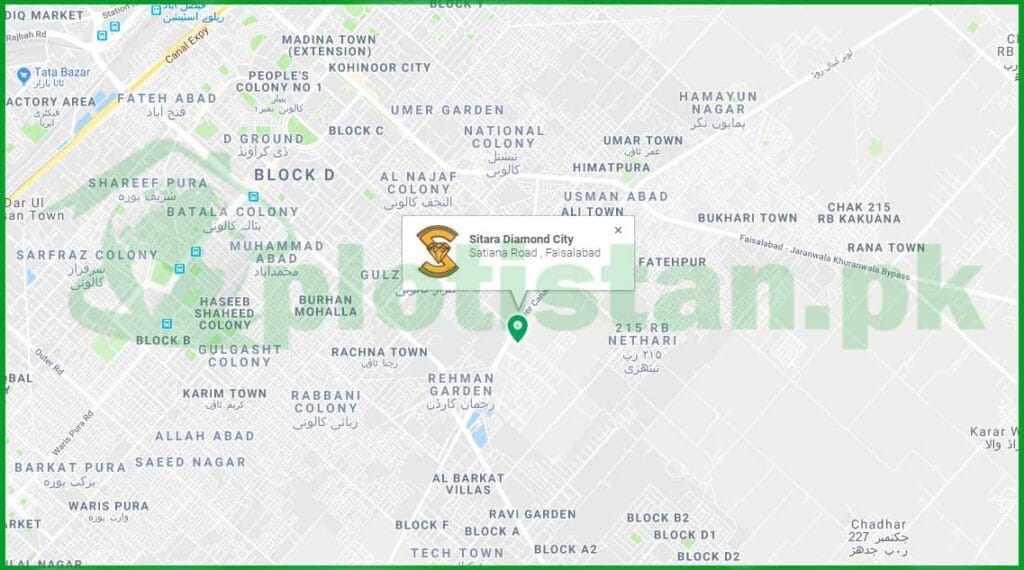 Sitara Diamond City Faisalabad Developers
It is a project by AS Enterprises who has developed it to provide you with a standardized living experience exactly according to contemporary time's need and demand. The professionals have established each and everything to provide a place which matches your dream living place. It is really an amazing project by the renowned group of developers who have already make a significant mark in the real estate market by the name Sitara Gold City Faisalabad.
Now with the launching of Sitara Diamond in Faisalabad, we can observe that they have developed each and everything in a more renovated and reformed manner to provide a more unique and tremendous living to people. This project is a great addition to the real estate of this city with the high and quality standards.
Key Features and Amenities of Sitara Diamond City
Sitara Diamond City offers a wide range of residential options, catering to diverse needs and preferences. From luxurious villas to modern apartments, the architecture and design of the properties are top-notch. The residential infrastructure is built with attention to detail and focuses on creating a comfortable and stylish living space for residents to enjoy.
Modern Infrastructure
Wide-Carpeted Roads
Green Belts
Round the Clock Security
Gated Community
Boundary Walls
Beautiful Entrance
Advanced Sewerage System
Central Mosque
Undergrounded Electrification
Pure Water Supply
Clean and Facilitated Environment
Lush Green parks
Playgrounds
Mini Zoo
Investment Opportunities in Sitara Diamond City Faisalabad
Sitara Diamond City Faisalabad offers a range of investment opportunities for buyers looking to make a smart financial move. Whether you're a first-time investor or an experienced one, this project has something to offer.
Potential Return on Investment
Investing in Sitara Diamond City Faisalabad holds the promise of a potential high return on investment. As the project is located in a prime area of Faisalabad, with growing infrastructure and development, property values are likely to appreciate in the future. This means that investing in a property now could lead to significant financial gains in the long run.
Market Trends and Demand in the Area
The market trends in Faisalabad indicate a strong demand for residential properties, and Sitara Diamond City is strategically positioned to cater to this demand. With its modern design, ample amenities, and convenient location, this project is attracting attention from both local and international buyers. Investing in a property in Sitara Diamond City can capitalize on this demand and potentially fetch higher rental rates or resale value.
Prospects for Rental Income
Sitara Diamond City Faisalabad is an ideal investment option for those seeking rental income. The project's prime location and well-planned infrastructure make it an attractive choice for tenants. Additionally, the development offers a range of amenities and facilities that appeal to potential renters. Owning a property in this project can provide a steady stream of rental income, making it a financially rewarding investment.
Comparison of Sitara Diamond City with other residential projects in Faisalabad
When considering a residential project in Faisalabad, it's essential to compare the options available to make an informed decision. Here's a comparison of Sitara Diamond City with other residential projects in the area:
Similarities and Differences in Pricing
Sitara Diamond City Faisalabad offers competitive pricing compared to other residential projects in the area. The project provides affordable payment plans and multiple property options, ensuring that buyers can find something within their budget. When compared to similar projects, Sitara Diamond City offers excellent value for money.
Amenities and Facilities Comparison
Sitara Diamond City Faisalabad stands out when it comes to amenities and facilities. The project offers a range of modern conveniences, including parks, shopping centers, mosques, schools, and healthcare facilities. These amenities enhance the quality of life for residents and make Sitara Diamond City an ideal place to live.
Reputation and Track Record of Developer
Sitara Diamond City Faisalabad benefits from the reputation and track record of its developer. With a history of successful projects, the developer has earned the trust of buyers and investors. This track record reassures potential buyers that their investment is in reliable hands.
Testimonials and Feedback from Sitara Diamond City Residents
Nothing speaks louder than the experiences of those who have already chosen to live in Sitara Diamond City Faisalabad. Here's what residents have to say about their time in the project:
Positive Experiences and Satisfied Customers
Many residents of Sitara Diamond City express their satisfaction with the project. They highlight the excellent amenities, peaceful environment, and sense of community as some of the project's standout features. Positive testimonials indicate that residents are enjoying their time in Sitara Diamond City and are happy with their decision to invest in this project.
Criticisms or Areas for Improvement
While the majority of residents have positive experiences, there may be some areas where Sitara Diamond City could improve. Some residents have expressed a desire for additional recreational facilities or increased attention to maintenance. However, these criticisms are minor and do not overshadow the overall positive feedback from residents.
Conclusion and Final thoughts on Sitara Diamond City Faisalabad
Sitara Diamond City Faisalabad offers an attractive investment opportunity with potential high returns. Its prime location, range of amenities, and competitive pricing make it a standout option in the property market. The positive feedback from residents further reinforces the project's appeal. Whether you are looking for a place to call home or a lucrative investment, Sitara Diamond City Faisalabad is worth considering. So why not take a closer look and see if it's the perfect fit for you?
Sitara Diamond City Faisalabad stands as a remarkable residential project, offering a prime location, attractive payment plans, and a wide array of amenities. With its exceptional infrastructure, promising investment opportunities, and positive feedback from residents, it proves to be an ideal choice for those seeking a high-quality living experience or profitable real estate investment. Sitara Diamond City Faisalabad ensures a luxurious lifestyle that brings together comfort, convenience, and modernity. Make the smart choice and explore the possibilities that await you at Sitara Diamond City Faisalabad.