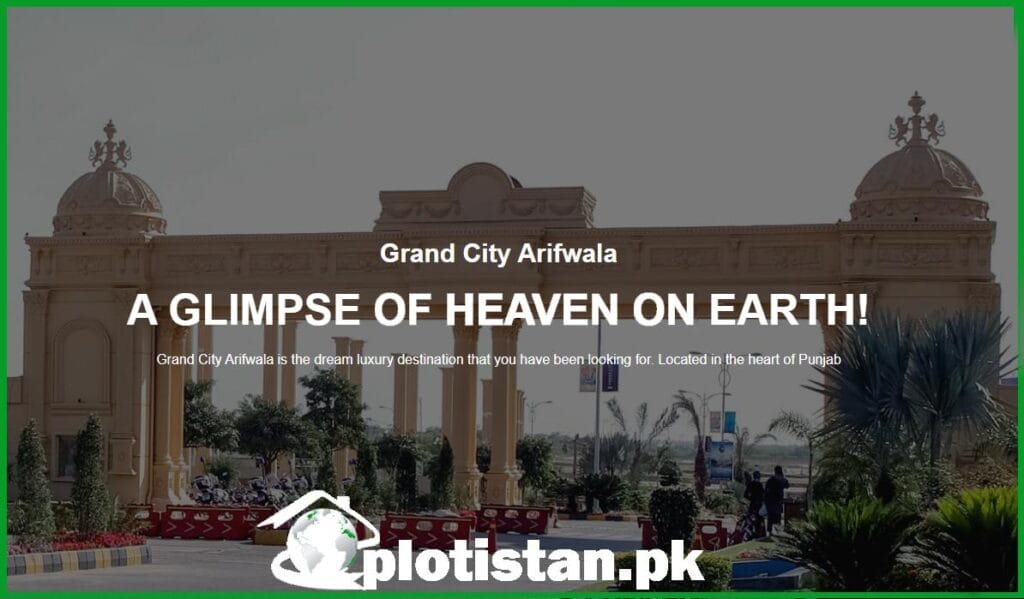 Arifwala is a tehsil of Pakpattan District in the Punjab province of Pakistan. Grand City Arifwala Housing Scheme is located in the district of Arifwala, which is a well-planned and well-designed housing scheme. The project has been designed and developed to meet the requirements of the future generations. This project has been developed on a vast area of land with a wide range of facilities for all its residents. The project has been designed and developed in accordance with the latest and most advanced architectural designs.
Grand City Arifwala
Are you looking for a place to call home in a city with a beautiful landscape? Look no further than Grand City Arifwala Housing Scheme. Located in the heart of Arifwala, this modern residential housing scheme provides an attractive and secure environment for you and your family. The development consists of luxurious apartments and villas, with a range of amenities designed to make life comfortable and convenient.
Grand City Arifwala Housing Scheme is the perfect place for those who are looking for a luxurious home in the city. It offers all the comforts and conveniences you need in order to enjoy a comfortable lifestyle. So if you're looking for a place that you can call home, then look no further than Grand City Arifwala Housing Scheme.
For Booking

0300-5846663
Click to Whatsapp
Grand City Arifwala Payment Plan
The payment plan is very flexible and convenient which is designed according to the needs and demands of clients. One gets the best and return of one's payment while living at this place. The investment opportunities are also very bright as the price and value of this land is increasing with the passage of time.
The current appreciation and demand of properties in Grand City Arifwala indicate this fact very well and give you a hint that it is the perfect time to book your plot here before it's too late. Your decision of buying property here will make you able to enjoy enormous investment and living benefits because of the high financial standings, tactical location and exceptional development status.
The commercial and residential plots are priced differently according to their size, and each has a different installment amount according to the total price. From various options, you can pick up the property which suits your residential, commercial or investment needs. Do not miss a chance to be a part of this exclusive housing scheme which assures the best value of your money. Let's discuss the detailed payment plan containing all the prices and other required information.
For Booking

0300-5846663
Click to Whatsapp
Grand City Arifwala Location Map
Grand City Arifwala holds great value and appreciation mainly because of its top-class and tactical location among many other housing schemes of this city. This upgrade living community is located ideally on 4 Km Pakpatan Road, Arifwala which is the hub of many residential and commercial real estate developments. The project is set not only among the facilities but also in the midst of a lush green environment, indicating a peaceful lifestyle to the residents. Grand City Arifwala enjoys a high-class location from all the perspectives. Peace and convenience lie here; however, the residents do not need to go far away to fulfill their basic needs.
One can access this community very easily and quickly because of the prime address while many developments are going on around the society indicating the high investment and living future of this place. The main roads are linked with this place, and many entertainment options are closely available. Large and lush areas surround this place while the best shopping places and the commercial areas are connected, adding more to the attraction of this place.
Here you will also be close to the essential educational, health, commercial and transportation centers all the time. The investment future is also very high here because of the demand and value of properties. You will surely have a comfortable and remarkable life. It is a great and drastic location of this city which enjoys excellent links to the central and important parts of the city.
For Booking

0300-5846663
Click to Whatsapp
Grand City Arifwala Project Plan
Grand City Arifwala is a tremendous project where the exclusive living and top-investment chances are accessible to people as the whole community is masterly planned. Because of the unique development, an array of world-class amenities and advanced infrastructure, this place offers a great sense of community to the residents. With a proven history of excellence, high quality, and exclusive approach, the developers have planned and worked professionally in this remarkable development by utilizing the latest trends and techniques.
The well-equipped, various size plots for sale are available and the latest community plan makes Grand City Arifwala an ideal living and investment hub. This housing scheme is spread over a large area while located at one of the most leading locations of Arifwala. Here enormous unique attractions are combined to make a perfect society where people can live with high class and eminence.
Advanced and proper road networks are spread throughout the community, which are all carpeted having green belts around. Lush green parks, landscapes, and playgrounds are made part in order to give people a peaceful and delightful living experience, close to nature. The commercial sector will also be there to cater to the commercial needs of people.
Moreover, the best entertainment, social, health, and educational facilities are available to bring forth the true convenience, comfort and passion to one's residence. It is a gated community where the safety and security of people are highly kept in view by the authorities to maintain a peaceful living. Truly, it is a master-planned community bringing together the comforts, luxury, high-class and affordability.
For Booking

0300-5846663
Click to Whatsapp
Grand City Arifwala Developers
Syed Rehan Gillani is the owner of The Grand City. The project is developed by Eurobiz Corporation. The company is known for international standards of infrastructure development with luxurious amenities. The main focus of Eurobiz is to develop a housing community in a private residential society, where residents may enjoy life.
On top of all, our long-lasting structures and graceful designs make efforts to achieve the international standard of living we plan to maintain. Grand City continues to inspire and excite us with the portfolio of beautiful buildings and transformed environments, privately owned and run by Syed Rehan Bin Waris Gillani and Syed Salman Bin Waris Gillani. Our strong financial foundation means we have been able to progress and expand the business significantly. Our impeccable standards have set superior benchmarks in the real estate industry. We are proud of our past twenty years and of what we have achieved. We are even prouder of what is coming up.
Their project plan for Grand City Arfiwala is ambitious and they are fully committed to delivering quality results. Grand City Developers have a track record of success with their projects and have made sure that Grand City Arfiwala is no different. The developers have employed experienced professionals to ensure that the project plan is executed to perfection.
Every aspect of the development is being closely monitored and all the necessary legal and safety protocols are being followed. The developers also have a team of experts on hand to help with any queries or concerns that may arise during the course of the development.
The other projects of the developer include:
For Booking

0300-5846663
Click to Whatsapp
Grand City Arifwala Amenities
Grand City Arifwala offers its residents a wide range of amenities to help make their stay in the community comfortable. Some of these amenities include a swimming pool, gym, shopping complex, mosques and schools. The project plan for Grand City Arifwala also includes several green spaces, parks and open areas for recreation and relaxation. Grand City Arifwala also has several commercial shops and restaurants located within the housing society. With all these amenities, Grand City Arifwala is the perfect place for people who are looking for a modern, comfortable and affordable home.
24/7 security
Carpet Roads
Community Center
Eco-Friendly Environment
Education institute
Grand Mosque
Graveyard
Health Facilities
Secure Gated Community
Sports complex with indoor and outdoor facilities
Underground electrification
Water, Gas, Electricity
Conclusion
Grand City Arifwala Housing Scheme is an excellent opportunity for all those looking for a place to call home in the district of Pakpatan. The scheme provides quality housing at a reasonable price and is located at an accessible distance from the city center. This scheme has been developed with great care and attention, making it a perfect choice for those who are looking for a place to call home. With its convenient location, quality amenities, and affordable prices, Grand City Arifwala Housing Scheme is sure to be attractive to those who want to buy a property in the district of Pakpatan.
For Booking

0300-5846663
Click to Whatsapp