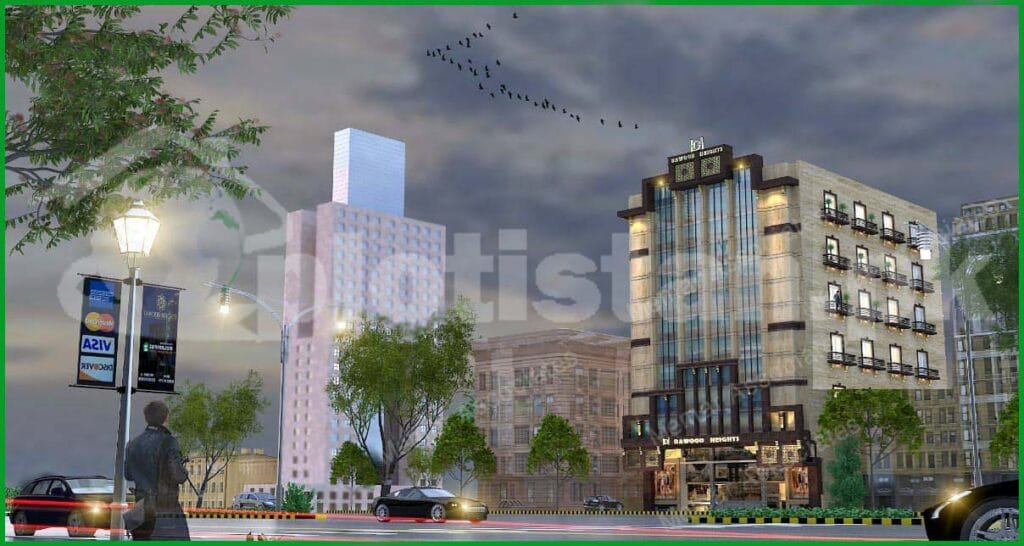 Dawood Heights Faisalabad is a prestigious residential project designed to offer luxurious living experiences in the heart of Faisalabad, Pakistan. Developed with a keen focus on providing modern amenities and a high standard of living, Dawood Heights aims to redefine urban living in the city. This article delves into the various aspects of Dawood Heights, including its payment plan, location, amenities, floor plans, investment potential, and more. Whether you are a potential buyer, investor, or simply curious about this remarkable project, this article will provide you with essential information to make informed decisions and understand the allure of Dawood Heights Faisalabad.
Background of Dawood Heights
Dawood Heights is a prestigious residential project located in the heart of Faisalabad. Developed by a renowned real estate company, it aims to provide residents with a luxurious and comfortable living experience. With its modern architecture and thoughtful design, Dawood Heights offers a perfect blend of style and functionality.
Developer's Vision and Mission
The developer's vision for Dawood Heights is to create a community that surpasses the expectations of its residents. They strive to build high-quality homes that not only meet the needs of modern living but also create a sense of belonging. The mission of the developer is to create sustainable and innovative spaces that enhance the overall well-being of residents, making Dawood Heights a place they are proud to call home.
TMO Approved ( NOC )
It is approved from Tehsil Municipal Authority (TMO) Faisalabad, is situated at an ideal location.
Overview of the Payment Plan
The payment plan for Dawood Heights is designed to be flexible and affordable, catering to the varying financial capabilities of potential buyers. The pricing structure takes into account the size and location of the residential units, with options available for both apartments and villas. The payment schedule is spread over a defined period, allowing buyers to manage their finances comfortably.
Buyers have the option to make an initial down payment upon booking their unit in Dawood Heights. This down payment ensures the reservation of the desired property and marks the beginning of the payment plan. Installment options are available to ease the burden of making a lump sum payment, allowing buyers to divide the remaining amount into manageable monthly installments.
Dawood Heights also offers attractive discounts and special offers to make the investment even more enticing. These discounts may include early bird discounts, referral bonuses, or special rates for specific payment plans. The aim is to reward buyers for their trust and loyalty while making the purchase process more appealing and cost-effective.
Location and Accessibility of Dawood Heights
Dawood Heights is strategically located in a prime area of Faisalabad, ensuring easy accessibility and convenience. Situated amidst thriving neighborhoods and commercial hubs, it offers residents the advantage of being close to all essential amenities and services.
Residents of Dawood Heights enjoy proximity to key landmarks and amenities, such as shopping centers, educational institutions, healthcare facilities, and recreational spots. This ensures that residents have everything they need within reach, making their daily lives more convenient and enjoyable.
Dawood Heights benefits from excellent transportation options and connectivity. It is well-connected to major roads and highways, allowing residents to easily commute to other parts of the city. Additionally, public transportation services are readily available, making it convenient for residents to travel without the hassle of driving.
It is located in the heart of Faisalabad, right near the historic Clock Tower. Other surrounding prominent locations benefits are here.
1 minute from Clock Tower
1-minute drive from PTCL Regional Office
2 minutes from the University of Agriculture (Main Gate)
5 minutes from Chenab Club
5 minutes from Serena Hotel
6 minutes from DHQ Hospital
9 minutes from Allied Hospital
Amenities and Features of Dawood Heights
Residential Facilities and Services
Dawood Heights offers a range of residential facilities and services to enhance the living experience of its residents. These may include 24/7 security, maintenance services, designated parking spaces, and high-speed internet connectivity. The aim is to provide residents with a hassle-free and comfortable lifestyle.
Recreational and Leisure Amenities
Residents of Dawood Heights can enjoy a variety of recreational and leisure amenities within the premises. These may include parks, fitness centers, swimming pools, and sports facilities. The presence of these amenities ensures that residents have ample opportunities for relaxation, physical activity, and socializing, right at their doorstep.
Safety and Security Measures
Safety and security are paramount at Dawood Heights. The project is equipped with state-of-the-art security systems and personnel to provide residents with a secure living environment. With round-the-clock surveillance, gated entrances, and trained security staff, residents can have peace of mind knowing that their safety is a top priority.
BASEMENT PARKING
ROOFTOP RESTAURANT
PRAYER ROOM
WHAT MAKES DAWOOD HEIGHTS
24/7 SECURITY
24/7 CONCIERGE SERVICE
Investment Opportunities and Returns on Investment
Current Market Trends and Demand
Investing in real estate is not just about finding a place to live; it's also about making a smart financial decision. The current market trends and demand for properties in Faisalabad indicate a promising investment opportunity. With the city's growing population and expanding business landscape, the demand for quality housing is on the rise.
Potential Rental Yields and Capital Appreciation
One of the key factors to consider when investing in real estate is the potential for rental yields and capital appreciation. Dawood Heights Faisalabad offers a great opportunity for both. Its prime location and high-quality construction make it an attractive option for potential tenants, ensuring a steady rental income. Moreover, with the development and infrastructure projects taking place in the surrounding area, the value of your investment is likely to appreciate over time.
Comparison with Similar Projects in the Area
In a competitive real estate market, it's important to assess how a project stacks up against its peers. When compared to similar projects in the area, Dawood Heights Faisalabad stands out for its excellent construction quality, modern amenities, and convenient location. It offers a compelling value proposition that sets it apart from the rest.
Conclusion and Final Thoughts on Dawood Heights Faisalabad
In conclusion, Dawood Heights Faisalabad presents an incredible opportunity for those seeking a modern and luxurious lifestyle in Faisalabad. With its flexible payment plans, prime location, and a wide range of amenities, Dawood Heights offers a unique living experience that caters to the needs and desires of its residents. Additionally, the potential for high returns on investment further enhances its appeal for buyers and investors. As Faisalabad continues to develop and thrive, Dawood Heights is poised to become a symbol of elegance and sophistication within the city. Take a step towards a refined living experience by considering Dawood Heights Faisalabad as your next residential destination.