Faisalabad, also known as the Manchester of Pakistan, is the third-largest city in the country. As the city continues to grow, it has become a hotspot for real estate development. Many Housing Projects have entered the market to cater to the growing demand for housing and commercial space. One of the most significant areas of growth in recent times has been the housing sector, with numerous housing projects being launched across the city. One such project is Top City Faisalabad.
Top City Faisalabad is one of the most sought-after housing schemes in Faisalabad, offering a premium living experience to its residents. The project's impressive infrastructure, prime location, and eco-friendly practices make it an ideal investment for anyone looking for a comfortable and sustainable living environment in the bustling city of Faisalabad.
Top City Faisalabad
Top City Faisalabad welcomes you to live in a place which is full of attractive amenities. You would love and desire to live here after visiting this land of dreams. This project is highly developed according to advanced modes and techniques where people can live comfortably. This place gives you a chance to turn your dreams of remarkable living into reality. Different Marla properties are available according to the needs and demands of families.
Top City Faisalabad is flourishing very much with the passage of time. Various remarkable and well-known developments have been developed here by the prestigious developers in order to elevate the living standards of residents of Faisalabad. From the investment, business as well as residential point of view, this city is gaining high prominence among modern investors and buyers.
People can gain huge profits and benefits by becoming the part of the Faisalabad real estate which has so much to offer. The chain of developments is going on with the futuristic approach, high values and best investment opportunities for all.
The investors are showing much interest in the latest developments, which are there to redefining the meaning of luxury and high quality living in Faisalabad.
For Booking

0300-5846663
Click to Whatsapp
Top City Faisalabad Payment Plan
A very easy payment plan is available to the people who want to get settled very highly and in a quality way. You will get more than you expect while living in this place. Property can be booked on cash payments and also on easy instalment plans. This place provides a chance to enjoy the best residence, business and investment experience.
Prices are very attractive to all the properties with the futuristic approach, and people are showing great interest in buying a home here. In a reasonable range, this place is offering very much to you. You can book your dream home with cash payment, while flexible installment policies are also available.
You would get surprised and pleased to know that a delightful living experience is now accessible very easily and reasonably. A very convenient payment plan, along with enormous facilities, attract several people to choose this place without delay.
Owning a home is no more a matter of just an investment or having a roof just to spend a life. It has become more than that in the modern day world. The developers of Top city Faisalabad understands this fact and established such a place where one can express oneself in the best ways.
Here is the detailed payment plan has given containing all the prices and conditions. For booking and further information, you can contact the expert team Plotistan.pk anytime!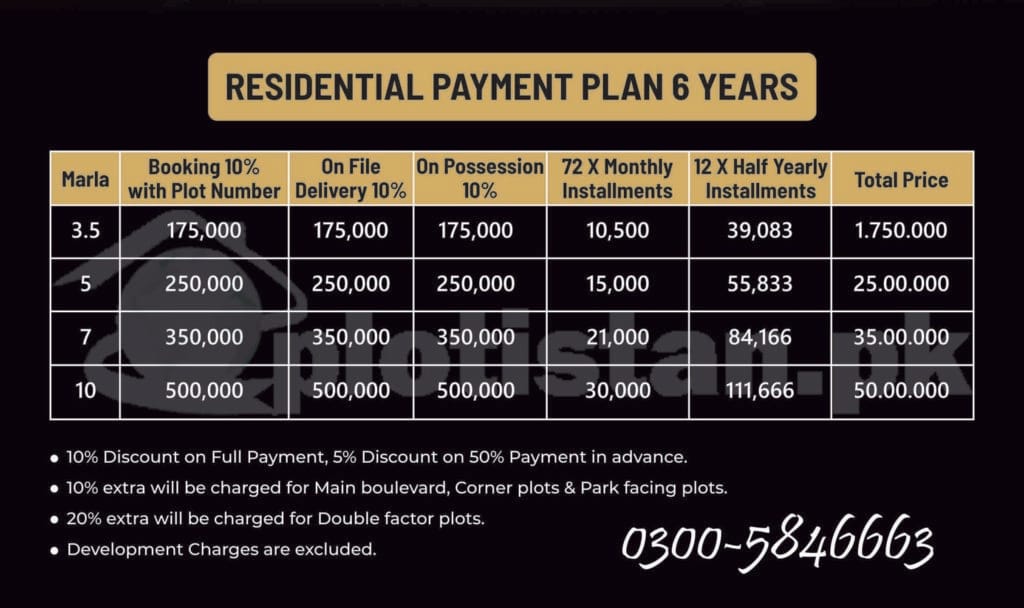 For Booking

0300-5846663
Click to Whatsapp
Top City Faisalabad Location Map
Top City Faisalabad is situated on Samundri Road Faisalabad which is a very famous road of this city. Enormous facilitated educational and health institutions, food courts, transportation points and roads are very closely located. Faisalabad Bypass and Citi Housing Phase 2 are just 5 minutes away from this venture. Located at the pulse of the city, it offers seamless connectivity so that you can spend quality time with your family and remain facilitated.
It is the most outstanding location of this city which is very well-connected and easily accessible. This is a very developed area where the residents of Prime City will enjoy proximity to best medical facilities, health institutions, social, entertainment and transportation facilities.
Commercial and shopping options are also closely available. It is the most outstanding location to live and invest. Peaceful surroundings and beneficial neighborhood are extremely powerful features of the location of this housing scheme. This area not only provides convenience but also provide good market value of your property in future.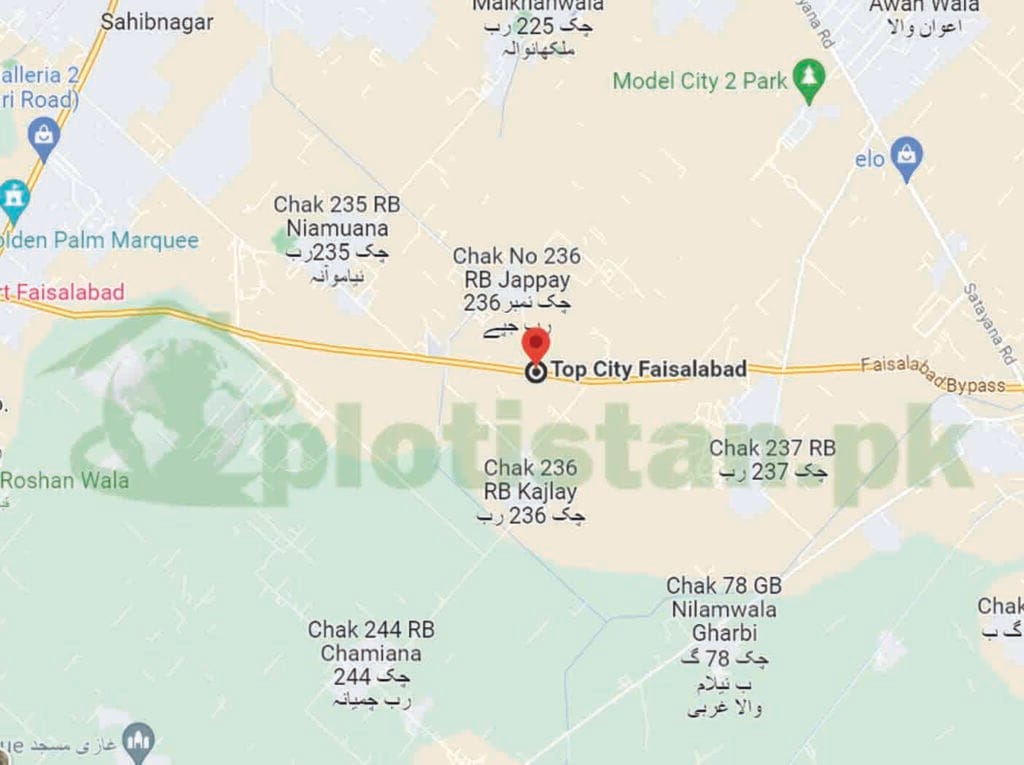 For Booking

0300-5846663
Click to Whatsapp
Top City Faisalabad Developers
If you're ever in Faisalabad and looking to invest in property, the Top City Faisalabad Developers should be on your radar. With years of experience and strong credentials within the industry, they are known for their ability to deliver high-quality residential and commercial properties.
Their projects are strategically located in convenient areas with easy access to amenities such as schools, hospitals, and shopping centers. What sets them apart is their focus on innovation and using modern technology to enhance the construction process.
The Top City Faisalabad Developers also prioritize customer satisfaction by offering timely delivery and transparent communication throughout the project's lifecycle. So if you're considering investing in Faisalabad's real estate market or simply looking for a beautiful place to call home, you won't go wrong with choosing the Top City Faisalabad Developers.
For Booking

0300-5846663
Click to Whatsapp
Top City Faisalabad Project Plan
Faisalabad, one of the biggest cities of Pakistan, holds immense significance in the country for being an industrial hub. The city is now embracing a new revolution in the housing industry, with the Top City Faisalabad Housing Scheme Project Plan ready to hit the market.
The project is being launched in the midst of growing demand for quality residential facilities in Faisalabad. It is aimed at providing multiple affordable housing options for those looking for gated communities, schools, and other modern amenities. The plan has been carefully crafted and will cater to families of varying sizes.
The proposed location of the Top City Faisalabad Housing Scheme Project Plan will be the heart of the city, with easy access to all key areas of Faisalabad. The project will include an exclusive shopping center, corporate offices, healthcare and fitness centers, open-air parks and playgrounds, and schools.
The project's layout ensures that all of these facilities will be conveniently accessible to the residents, ultimately leading to a quality lifestyle. The project is designed according to modern architectural standards aiming to provide an inclusive and integrated community.
The residents will have access to state-of-the-art facilities, such as high-speed internet, round the clock security services, and electricity backup so that they can enjoy a hassle-free and comfortable lifestyle. The community will have access to several green belts and public parks, ensuring a healthy lifestyle and a relaxed environment.
Top City Faisalabad Housing Scheme Project Plan will include 5, 7, 8, 10, and 15 marla developed plots with a complete infrastructure including roads, water supply, electricity, and gas networks. The project caters to a diverse group of individuals, including young professionals or families, investors looking for long-term investment, or overseas Pakistanis planning to build their homes in Faisalabad.
The Top City Faisalabad housing scheme project plan is the perfect opportunity for anyone looking to invest in a luxurious and modern housing society. It provides a perfect blend of quality living and affordability. The project plan offers a once-in-a-lifetime opportunity to invest in a landmark development that will offer lifestyle, guarantees healthy living, and a peaceful existence.
The Top City Faisalabad Housing Scheme Project Plan is a game-changer in the Real Estate Industry, the project if executed perfectly will make accessible affordable and decent housing for many families. With the top-notch facilities, quality infrastructure, and affordable pricing, the Top City Faisalabad Housing Scheme Project Plan can become an example for the developers to follow.
For Booking

0300-5846663
Click to Whatsapp
Features and Facilities
Make yourself ready to access vital facilities and striking features while living at this land of dreams. An improved and luxurious lifestyle is available to you very easily. This venture is packed with enormous facilities and features where living would be as delightful as one wants it to be. The place meets all the requirements of an ideal living.
Choosing Top City Faisalabad as your living asset is a way to celebrate each and every minute of your life with the best of facilities and amenities. Introducing the best and luxurious houses and living conditions, this place is a perfect and ideal place. Here you will feel the sense of wholesomeness, completeness and relaxation in every way.
Top City Faisalabad Housing Scheme boasts a host of features and facilities:
Location:
Located on the main Samundri road, Top City Faisalabad has an ideal location, which is close to the Faisalabad International Airport and other major commercial centres of the city. In addition, the housing scheme is also connected to the motorway, making it easily accessible to people from other cities.
Security:
Security is a significant concern for every individual, and Top City Faisalabad Housing Scheme has taken this aspect into account. The housing scheme is equipped with a state-of-the-art security system comprising CCTV cameras, gated entrances, and manned security personnel to ensure the safety of residents.
Facilities:
The housing scheme provides a range of facilities, including parks, jogging tracks, a community centre, a gymnasium, and a mosque. The well-maintained parks and jogging tracks enhance the living experience and promote healthy outdoor activities. The community centre serves as a hub for social gatherings where residents can bond over community activities.
Infrastructure:
Top City Faisalabad Housing Scheme offers a wide range of infrastructure facilities such as an uninterrupted supply of electricity, water, and gas. The roads are well-paved and lined with lush green trees, offering a refreshing environment. The housing scheme even has its water filtration plant to ensure that the water supply remains clean and drinkable.
Amenities:
The housing scheme offers a host of amenities such as schools, medical facilities, and shopping centres. The schools within the housing scheme ensure that children do not have to travel far to receive a quality education. The healthcare facilities within the housing scheme are of excellent quality and provide residents with medical assistance they might need. Top City Faisalabad Housing Scheme also offers a range of shopping centres for convenient shopping.
Project has following amazing features;
This is a gated community.
Has water filtration plant.
Underground electricity system.
Affordable and flexible payment plan.
Surrounded with main amenities of life.
Has parks.
Mosque.
Sewage system.
Main boulevard.
Prime location.
FDA approved.
Boundary wall.
Nearby University.
The annual rental revenue is 5 to 7 percent for shops.
Greenbelts.
Nearby hospital.
Security system.
E-tag entrance ensuring more security.
Such unbeatable facilities within the Top City with affordable prices and flexible payment plans are reason behind people prefer this society over others and enjoy a world class life. For commercial investors this society is promising future profits to their businesses because of the locality and the promising yield in the society.
In conclusion, Top City Faisalabad Housing Scheme is an ideal place to live for anyone looking for a secure and luxurious residential destination. The housing scheme has a range of amenities and services that make it an attractive option for people from all facets of life.
For Booking

0300-5846663
Click to Whatsapp
Advantages of Investing in TOP City Faisalabad
TOP City Faisalabad is a modern housing society that has gained popularity due to its prime location, luxurious amenities, and state-of-the-art infrastructural design. The demand for real estate in Faisalabad has grown significantly in recent years, and investing in Grand City Faisalabad can offer numerous advantages to potential investors.
High Return on Investment (ROI) Potential
Investing in TOP City Faisalabad is an attractive option for buyers looking for high returns on investment. The project is located in a prime location, making it a profitable investment opportunity for buyers. Moreover, the project has been developed by Salman Developers, who have a proven track record of delivering successful real estate projects.
Trusted Name, Credibility and Experience of the Developers
The developers of TOP City Faisalabad, Hakeem Developers, are a trusted name in the real estate industry. They have a proven track record of delivering successful real estate projects in Pakistan. The developers' extensive experience and credibility ensure that the project is of the highest quality.
Quality, Security and Comfort of Living in TOP City Faisalabad
TOP City Faisalabad offers a high-quality living experience to its residents. The project has been designed with the latest infrastructure and amenities to provide a comfortable lifestyle. The project also has round-the-clock security, making it a safe and secure place to live. The developers have focused on providing residents with a comfortable and luxurious living experience, making it an attractive investment opportunity for buyers.
For Booking

0300-5846663
Click to Whatsapp
Why choose TOP City Faisalabad?
TOP City Faisalabad Housing Society is one of the most sought after housing societies in the city of Faisalabad. It offers an excellent location, a payment plan that is affordable to all, and top-notch amenities. These features make it an ideal choice for those looking to move into a new home.
The location of TOP City Faisalabad is unbeatable. It is just minutes away from the centre of Faisalabad, giving residents easy access to all of the city's main attractions. In addition, the payment plan is designed to be accessible to all. Residents can choose to pay in instalments or in full, depending on their budget and financial capabilities.
The amenities offered at TOP City Faisalabad are also impressive. The developers have put thought into creating a community that meets the needs of modern life. This includes secure gated entrances, 24/7 security, CCTV surveillance, and an array of other features that promote safety and convenience.
The developers at TOP City Faisalabad have gone above and beyond to create a safe and secure housing society. They have put together a comprehensive project plan that ensures that all aspects of the project are met with the highest standards.
Choosing TOP City Faisalabad Housing Society provides residents with the opportunity to enjoy all that the city of Lahore has to offer, while living in a secure and safe environment. With its convenient location, payment plan, and amenities, it's no wonder why this housing society is so popular.
For Booking

0300-5846663
Click to Whatsapp
Commonly Asked Questions
At Top City Faisalabad, we understand that people may have questions about our housing scheme. To help, here are some of the most commonly asked questions about our project:
Which is the best colony of Faisalabad?
Top City Faisalabad Is best Housing Society in Faisalabad.
What is Top City Faisalabad?
Grand City Faisalabad is a residential housing society located in the city of Faisalabad. It is an emerging project offering modern amenities, world-class facilities and an ideal residential environment.
Is Top City Faisalabad approved by FDA?
The most common question to be asked about a real estate project in Pakistan is its NOC status, so talking about Top City Faisalabad; which will be approved by Faisalabad Development Authority (FDA).
Who are the developers of Grand City Faisalabad?
The development of Top City Faisalabad is being managed by one of the leading real estate developers in the country, The project is developed by Hakeem Developers. They are known for delivering quality projects with advanced construction techniques and state-of-the-art technology.
What are the amenities available at Top City Faisalabad?
The society provides a range of modern amenities and facilities such as 24/7 power backup, uninterrupted water supply, round the clock security, advanced drainage system, jogging track, mosque, parks, sports facilities, commercial centers and much more.
Who is the owner of the housing venture?
Rai Umer is the owner of The Grand City.
Where is Top City Faisalabad located?
Top City Faisalabad is situated in the heart of the city, located At Samundri Road Faisalabad. It is easily accessible from all parts of the city due to its excellent location.
Why should I choose Top City Faisalabad?
Top City Faisalabad offers a secure and comfortable lifestyle for its residents with its modern amenities, world-class facilities, convenient payment plans and easy accessibility. It is an ideal place for families looking for a peaceful living environment in the hustle and bustle of the city.
For Booking

0300-5846663
Click to Whatsapp