Sheikhupura also known as Qila Sheikhupura, is a city in the Pakistani province of Punjab. Founded by the Mughal Emperor Jehangir in 1607, Sheikhupura is the 16th largest city of Pakistan by population and is the headquarters of Sheikhupura District.
Sheikhupura is becoming a new real estate destination offering so much to potential investors. This place has a lot of industrial and agricultural importance. However, many developers have introduced new and modern housing schemes here to upgrade the living standards of people.
District One Sheikupura
District One Sheikhupura is a project of 101 Group at the location of Sheikhupura. This is a new emerging housing society in Lahore offering the best investment and residential opportunities at flexible rates.
Many well-known developments have been initiated in this place. District One Sheikupura is a great addition to this portfolio offering something exceptional to all. District One housing scheme is facilitated and luxurious where you will have an incredible living experience. Because of the ideal location, this society also offers many investment benefits.
This place plans to provide high-class living and investment to people with much ease and convenience. The middle-class investors or people of average income can also buy a place here to elevate their living standards or to build a home of their dreams. The payment and installment plans are attractive to all people. Let's consider the detailed payment plan and rates of plots which are described below for you!
For Booking

0300-5846663
Click to Whatsapp
District One Sheikhupura Payment Plan
Plots for sale in District One Sheikhupura are available at competitive prices with high future growth. Various size properties are available in which the developed, undeveloped, and commercial plots are included. All the plots are prices attractively; however, you can book your desired property with a certain amount of down payment.
The investment, residential as well as commercial opportunities are bright here. Modern investors and clients are very attractive to purchase property at this newly developed housing scheme. One can also book plot through easy installment plans which are appealingly designed by the authorities.
This project is developed excellently according to new trends and standards. Here, you can book plots for sale at highly affordable rates. The ideal location and connectivity to the important areas add more to the worth of District One Sheikhupura housing scheme. Here, the modern infrastructure is very well combined with lush green spaces and landscapes. You can enjoy an incredible living with your family while surrounded by all facilities.
For Booking

0300-5846663
Click to Whatsapp
District One Sheikhupura Location Map
This is an ideal location both from a living and investment point of view. From Lahore and Sheikhupura, this location is easily accessible. Many important roads are connected to this place. Investing in a real estate project at an ideal location is a great investment.
The buyers can make the most out of it as the property prices always increase that are strategically located. District One Sheikhupura location map adds much to the value of this society. This is among the top factors that make it the best housing society.
The best thing about its location is that it is situated near all the major landmarks of Sheikhupura like the District Headquarters, Railway Station, Court, Hospital, etc.
It is only a 3-minute drive away from Batti Chowk.
Only an 8-minute drive away from Motorway M2.
Only a 2-minute drive away from Faisalabad Bypass Road.
Only a 30-minute drive away from Shahdra and Niazi Adda Lahore.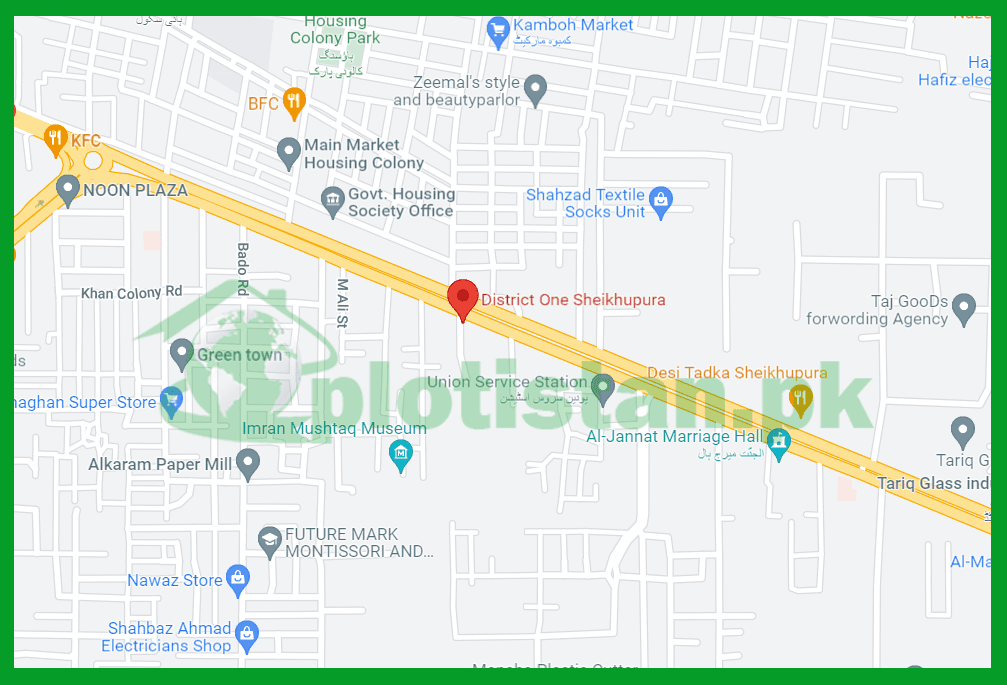 For Booking

0300-5846663
Click to Whatsapp
District One Sheikhupura Developers
The project is developed by 101 Group . The group is a leading real estate development company that has been operating in Pakistan for over 20 years. The company has successfully completed many apartment projects in the country. The company is known for its quality work, and it has a good reputation in the industry. They have been in the business of real estate development for over 5 years
. They are a well-known and trusted name in the real estate industry. This is their latest project, and they are committed to making it a success. The developers have planned this gated community according to global standards in order to elevate your living standards. Highly professional and brilliant members, architectures, and town planners are consulted in order to establish such a housing scheme that fulfills the international living requirements.
The developers at the initial stage set up the whole plan and then seek the final approval from the concerned authorities so that all kinds of issues in the future can be avoided. With vast experience in real estate because of which 101 Group have proven themselves as the premier property developers with a significant approach in every matter. Through their innovative and excellent work, they are contributing to the rapid growth of the property market. Transparency and reliability are the main tools through which they achieve a higher customer satisfaction level. The expertise in architect development, land acquisition, construction, and designing has helped them to be ranked among the best real estate developers.
The 101 Group has been developing several residential projects, such as follows
Grand Shikar Resorts Islamabad
For Booking

0300-5846663
Click to Whatsapp
Features and Facilities
Off and on all of you wishes to know desired to live in the royal environment which is not only has dominant location but economical rates too. On the other hand next generation safe zone is attached with not only dominant location but the requirement of proper educations and commercial essentials are even more important as well. The solution of all problems leads to only one solution which is none other than District One Sheikhupura. Here you can found lot of essentials more than your expectations within few asserts. Are you ready give yourself a proper living environment with lot of impressive features, have a look below,
Electricity availability
Sui Gas Supply
Strong sewerage system
Lavish green belts around all roads
Street lights
High speed internet lines
Cable TV connection
Well management staff
Expert security
CCTV security
Central location of Faisalabad
Wide roads in front of each residence
Commercial areas
Residential luxuries
Modern state of art
For Booking

0300-5846663
Click to Whatsapp