Lahore carries the essence of human origin and the model of human growth. Such places become significant for those who like to enjoy the nostalgia of old thoughts. The city of Lahore can truly be remembered as such a place. Having seen so many high's and low's of the past and a culture, Lahore in it is now complete humankind carrying a multitude of the past and the keenness to excel in the future. From Victorian era to Mughal period, from buildings and gardens to forts, the diversity of Lahore is sometimes unbearable, yet the charm is timeless.
District One Lahore
District One Lahore is a modern and low cost housing scheme in Lahore located at Jati Umrah Road, Lahore Next to the Fazaia Housing scheme phase 2. This LDA approved society is planned innovatively to provide a high-standard living to people full of comforts. You can enjoy a safe and facilitated lifestyle that is matchless. District One Lahore is among the best housing schemes in Lahore featuring a lush green environment, sustainable community design, modern-day amenities, and premium living. Also, the investment potential is high at this place because of the ideal location and modern development approach.
For Booking

0300-5846663
Click to Whatsapp
District One Lahore Payment Plan
District One Lahore payment plan is flexibly designed that is suitable for everyone. This place is a perfect blend of luxuries and sustainability. While developing this society, special public concerns are kept in view by the authorities. District One Lahore aims to bring premium living for people with much affordability. Moreover, society ensures high investment returns in the coming time. Let's discuss other District One Lahore details so that you can make an informed investment decision! District One Lahore is among the most affordable housing schemes in Lahore that provides incredible living and investment opportunities. You can save your present as well as future by investing in this top-notch project. District One Lahore plot prices are reasonable that allow everyone to own space here. This is a new housing project that is set in the most prime area of Lahore. District One Lahore payment plan is conveniently designed so that anyone can buy a plot here with much ease and convenience.
For Booking

0300-5846663
Click to Whatsapp
District One Lahore Location Map
The project is exactly located on Sharif Medical City Jati Umrah Road, Lahore Next to the Fazaia Housing scheme phase 2. From basic to advanced, all the facilities are closely available to this project. One can easily reach this place from all over Lahore as the major highways and roads are directly linked to this society. Allama Iqbal International Airport is also just 25 minutes drive away from District One Lahore. You can buy a plot in this well-located community in order to gain benefits both in terms of living and investment. With easy approach, high-end connectivity, and accessibility, Laban Garden Lahore is the top choice for everyone.
7-minute drive away from Multan Road.
1-minute drive away from Sundar Road.
3 minutes from Bahria Orchard Lahore.
A 5-minute drive from Canal Road Lahore.
3-5 minutes drive from Raiwind Road and Ring Road Lahore.
25-30 minutes drive from Allama Iqbal International Airport Lahore.
20-25 minutes drive from Thokar Niaz Baig,  and Lahore Motorway.
10 minutes drive from MidCity Housing Lahore.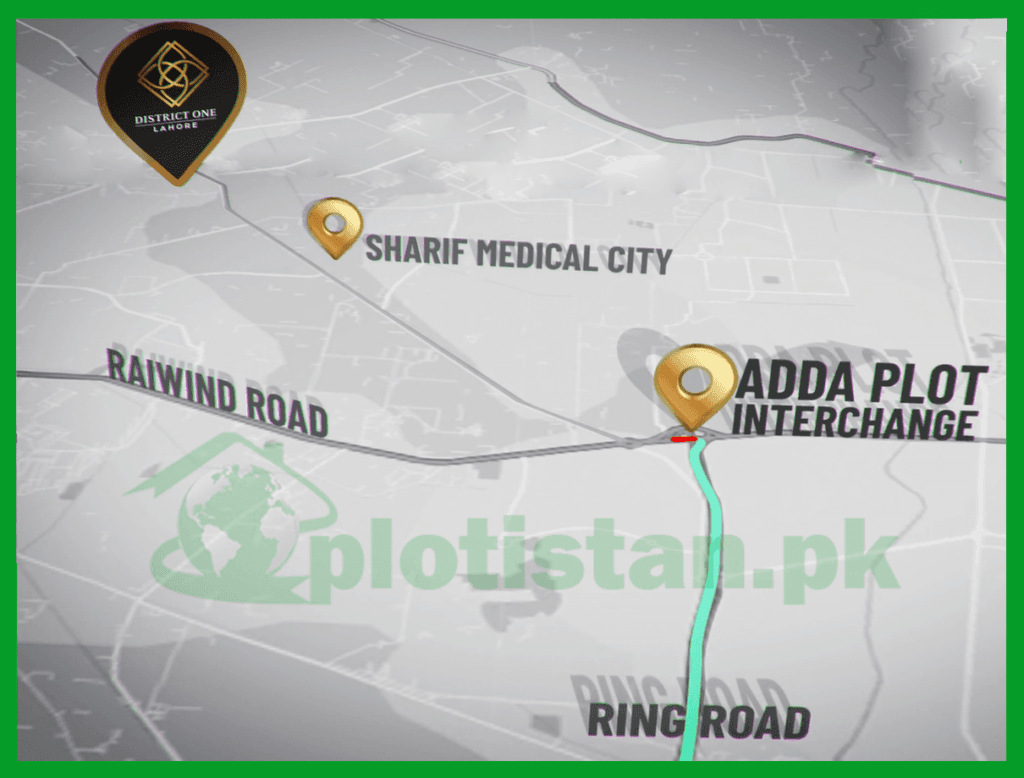 For Booking

0300-5846663
Click to Whatsapp
District One Lahore Developers
The project is developed by 101 Group . The group is a leading real estate development company that has been operating in Pakistan for over 20 years. The company has successfully completed many apartment projects in the country. The company is known for its quality work, and it has a good reputation in the industry. They have been in the business of real estate development for over 5 years. They are a well-known and trusted name in the real estate industry. This is their latest project, and they are committed to making it a success. The developers have planned this gated community according to global standards in order to elevate your living standards. Highly professional and brilliant members, architectures, and town planners are consulted in order to establish such a housing scheme that fulfills the international living requirements. The developers at the initial stage set up the whole plan and then seek the final approval from the concerned authorities so that all kinds of issues in the future can be avoided. With vast experience in real estate because of which 101 Group have proven themselves as the premier property developers with a significant approach in every matter. Through their innovative and excellent work, they are contributing to the rapid growth of the property market. Transparency and reliability are the main tools through which they achieve a higher customer satisfaction level. The expertise in architect development, land acquisition, construction, and designing has helped them to be ranked among the best real estate developers.
The 101 Group has been developing several residential projects, such as follows
Grand Shikar Resorts Islamabad
Features and Facilities
District One Lahore is a master-planned gated community packed with an abundance of facilities and features. The developers aim to introduce high-standard living to people with affordability. There are many facilities which have been provided through the continent location and within society, all the major facilities are provided keeping in mind the requirement of modern-day people. District One Lahore is offering the following facilities and features!
Gated Community
24/7 security system
Carpet Roads
Wide Streets
Park and PlayGround
Community Centre
Commercial Mall
International Education institution
Masjid
Underground Electricity
Water Filtration Plant
For Booking

0300-5846663
Click to Whatsapp