Faisalabad was formerly named Lyallpur. Faisalabad is the prevalent industrial and metropolitan city of Pakistan. Faisalabad is pretty diverse with rich culture and traditions. The culture of Faisalabad is quite miscellaneous because it is an industrial city and people from all over Pakistan come to work here, The reason Faisalabad is called Manchester of Pakistan because it's the leading textile capital of Pakistan and all the industries here associated to textiles and same is Manchester, so these cities are also named as Twin cities.
Faisalabad, one of the largest cities in Pakistan, is an exciting place to own or rent property. It has all the modern amenities as well as infrastructure projects that help support a growing population. The city is rapidly growing due to industrial development and increased investment in business ventures. Faisalabad offers great opportunities for investors looking to invest in housing and commercial properties.
Omega Residencia Faisalabad
Welcome to Omega Residencia Faisalabad, a very much arranged, present day and extensive local area offering different private plots and business plots where you can benefit of a selective way of life and find the modern venture possibilities. Omega Residencia Faisalabad is the top-class project that includes extravagance, solace, and moderateness. Subsequent to setting new ways of life in Lahore and getting enormous achievement and appreciation, this spot is presently going to serve the occupants of Faisalabad by bringing the appealing plot bargains in the most dynamic living and thriving venture climate.
Omega Residencia Faisalabad Housing Society, planned in area of 1600 Kanals with gated community equipped with all facilities of life that can make life easier. Omega Villas mainly based on two projects Omega Residencia Faisalabad & Omega Homes. We are providing comfortable and outstanding lifestyle that can make lives of Omega Residencia Faisalabad housing society people more safe and sound at low rate.
It's a developed unique housing societies projects commensurate to present day requirements regarding all living facilities, which is a portrayal of an outstanding standard of work, reliability, high quality of construction work and timely completion. Omega Residencia Faisalabad not only merges modern innovations with the up-to date technology but also provides a down to earth experience in the process.
With an extensive network of winding roads, uninterrupted 24/7 electric supply, International Standard School System, lush green parks, omega residencia shopping mall and omega residencia society club for the entertainment of omega residencia faisalabad residents, mosque and a fully equipped hospital, these are only a few wonders that are provided to the residents.
However, Omega Residencia Faisalabad fulfills your dream into reality now. It offers your dream house with all modern luxuries and amenities. It's a reliable name where you can invest your money with closed eyes.
For Booking

0300-5846663
Click to Whatsapp
Omega Residencia Faisalabad Payment Plan
Omega Residencia Faisalabad has planned the most alluring and best installment plan for its purchasers. This people group is offering the private as well as business plots at various costs. One can book the plot here with a specific measure of initial investment which follows the simple 5 Years portion plan.
This improvement is one of the top-class lodging plans offering premium living to individuals with reasonableness. The initial investment is entirely sensible, and portion plans of the multitude of private and business plots are planned helpfully. Designers exceptionally remembered the comfort of individuals and make it feasible for everybody to be a piece of this top land improvement with the cutting edge approach. High private and venture amazing open doors are accessible, and what's in store values and request of plots available to be purchased will unavoidably increment.
It is a place of comforts, facilities and opportunities while within a very easy payment plan. The payment plan is highly convenient and price varies according to the size and location of the property. You can build a dream home in this dream place with much affordability. Simple terms and conditions are to be fulfilled to own a land here.
Omega Residencia Faisalabad has designed the most attractive and best payment plan for its buyers. This community is offering the residential as well as commercial plots at different prices. One can book the plot here with a certain amount of down payment which follows the easy 5 Years installment plan.
Omega Residencia offers 3, 5,7, 10, 20, 40 Marla residential plots and 3, 4.5, 8 Marla commercial plots with a certain amount of down payment.
The affordable and convenient installment plan is spread over 60 month. Here is the price plan.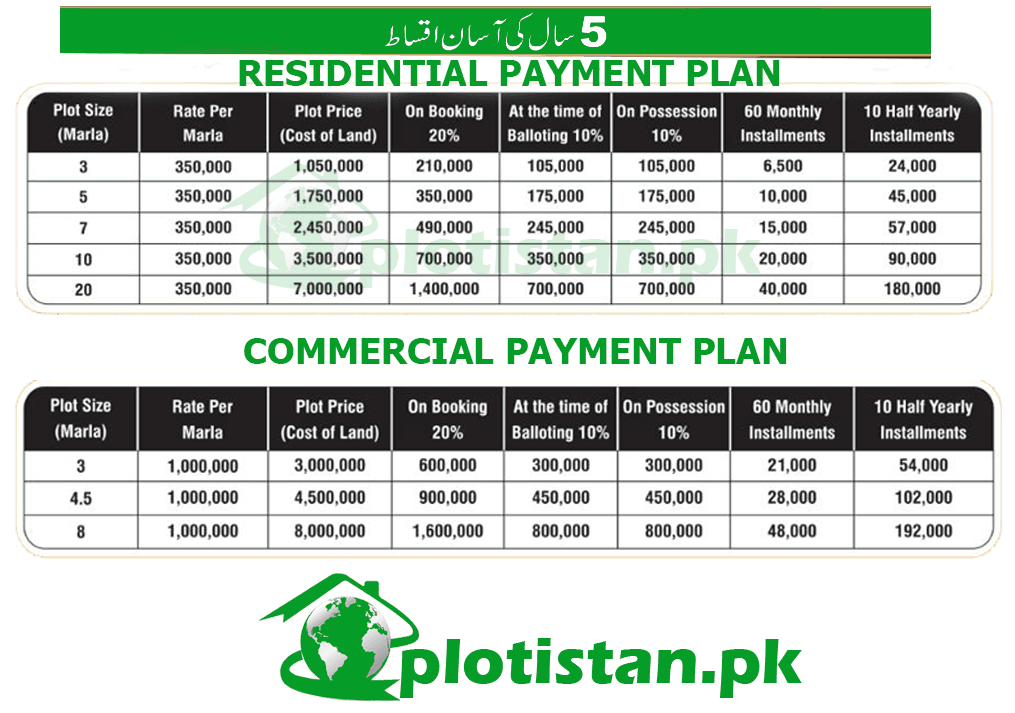 For Booking

0300-5846663
Click to Whatsapp
Omega Residencia Faisalabad Location Map
Deciding to live in Omega Residencia Faisalabad can be exciting. You will find a great location to live and enjoy the facilities this place is surrounded by. It is located on Sargodha Road which is a very well-known and easily accessible location. All the important schools, hospitals, food points, shopping centers and transportation spots are connected to this place where living would be a source of much convenience and comfort.
Omega Residencia Faisalabad is the hub for an upscale and standardized living. There are some great spots close to this place to go on weekends and spend a quality time with your family. If shopping is on your mind than commercial area or shopping malls are closely available. It is the most desirable residential area to live in.
Omega Residencia Faisalabd holds extraordinary worth and appreciation predominantly due to its top-class and strategic area among numerous other lodging plans of this city. This redesign living local area is found in a perfect world on Faisalabad Sidestep Street, which is the center of numerous private and business land improvements.
The task is set among the offices as well as amidst a lavish green climate, demonstrating a tranquil way of life to the occupants. Omega Residencia Faisalabad partakes in a fashionable area according to every one of the viewpoints. Harmony and comfort lie here; in any case, the occupants don't have to go far away to satisfy their essential requirements.
The project is exactly located at Sargodha Road opposite Citi Housing Phase 1 Faisalabad. It is near the Faisalabad – Pindi Bhattian Motorway Interchange and Faisalabad Bypass.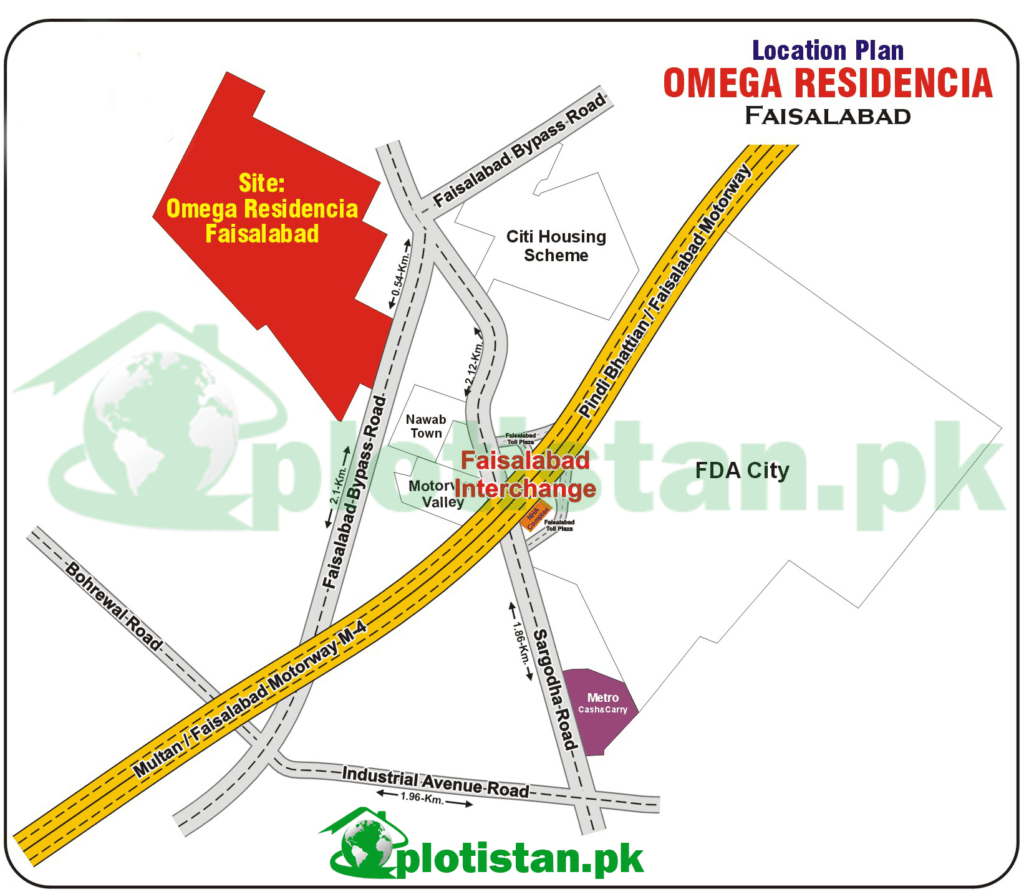 For Booking

0300-5846663
Click to Whatsapp
NOC (FDA Approved)
Omega Residencia Faisalabad is approved by Faisalabad Development Authority (FDA) under the following reference number.
NOC (FESCO APPROVED)
Omega Residencia Faisalabad is approved Faisalabad electric Supply Company (FESCO).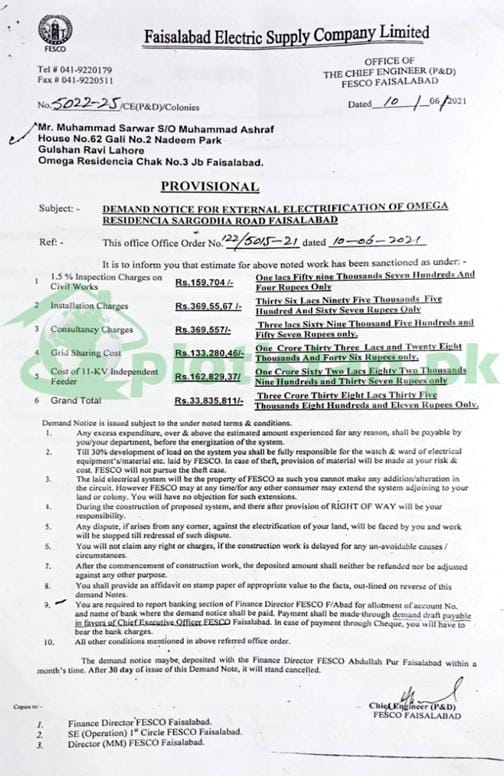 NOC (SUI NORTHERN APPROVED)
Omega Residencia Faisalabad is approved Sui Northern Gas Pipelines.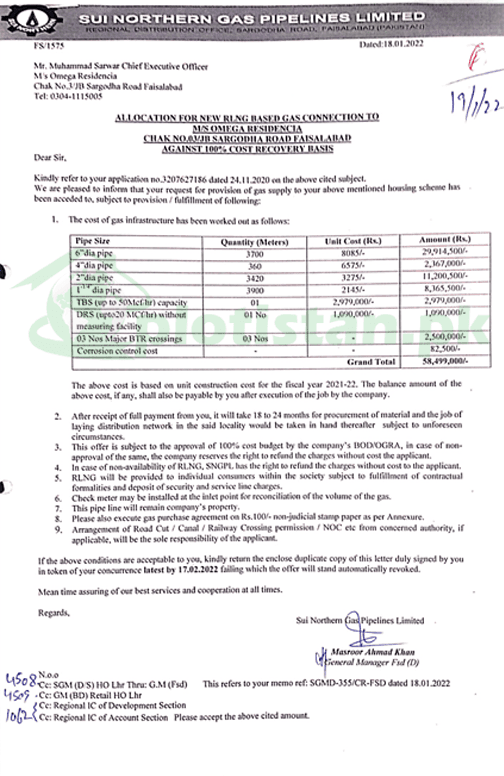 For Booking

0300-5846663
Click to Whatsapp
Omega Residencia Faisalabad Project Plan
Omega Residencia Faisalabad is an enormous task where the select residing and top-venture chances are open to individuals as the entire local area is skillful arranged. As a result of the novel turn of events, a variety of elite conveniences and high level foundation, this spot offers an incredible feeling of local area to the occupants. With a demonstrated history of greatness, top caliber, and elite methodology, the designers have arranged and worked expertly in this striking improvement by using the most recent patterns and strategies.
The exceptional, different size plots available to be purchased are accessible and the most recent local area plan makes Omega Residencia Faisalabad an optimal living and speculation center point. This lodging plan is spread over a huge region while situated at one of the most driving areas of Faisalabad city. Here tremendous exceptional attractions are consolidated to make an ideal society where individuals can reside with fashionable and distinction.
Progressed and legitimate street networks are spread all through the local area, which are totally covered having green belts around. Lavish green parks, scenes, and jungle gyms are made part to give individuals a tranquil and brilliant living experience, near nature. The business area will likewise be there to take care of the business needs of individuals.
Also, the best amusement, social, wellbeing, and instructive offices are accessible to deliver the genuine accommodation, solace and enthusiasm to one's home. It is a gated local area where the wellbeing and security of individuals are profoundly kept in view by the specialists to keep a serene residing. Genuinely, it is an expert arranged local area uniting the solaces, extravagance, elegant and moderateness.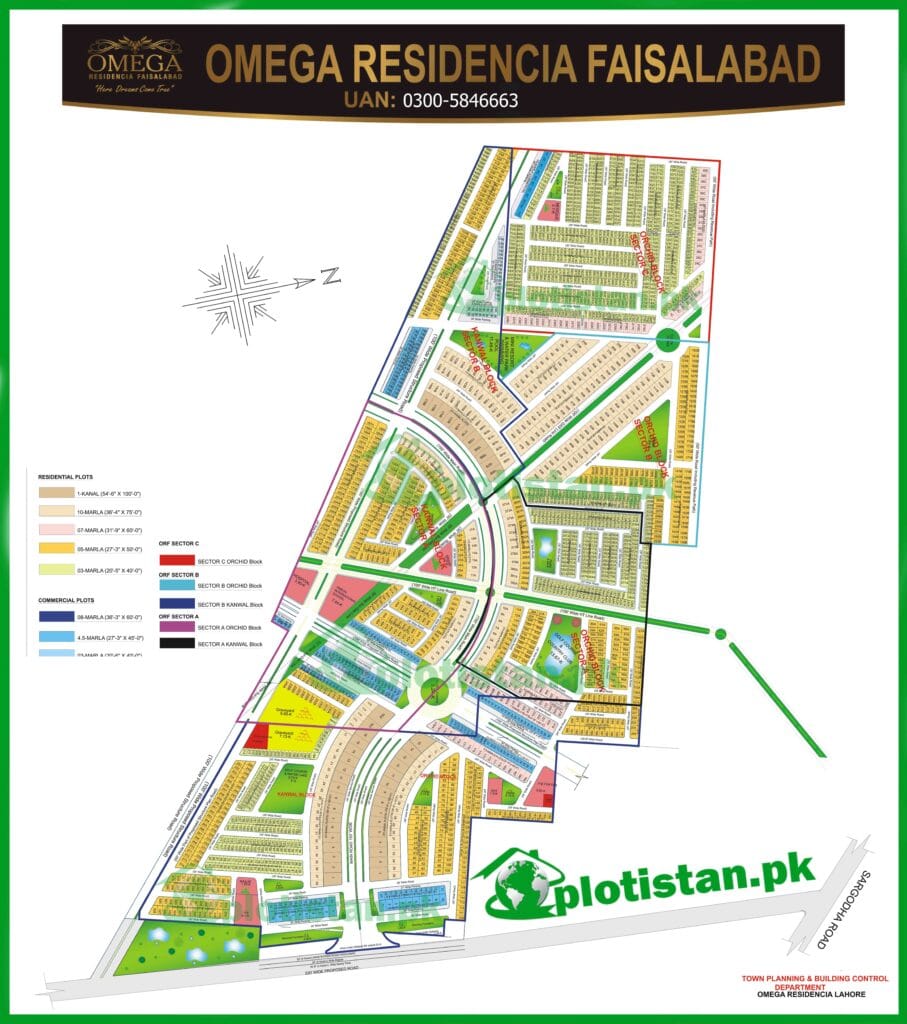 For Booking

0300-5846663
Click to Whatsapp
Omega Residencia Faisalabad Developers
Omega Villas PVT developed this project by presenting the accurate picture of luxury, high class, eminence, and quality. The developers have accomplished everything with much brilliance and honesty. In Lahore, the project under the same name has gained much appreciation and value, and now it is on the same path in Faisalabad.
More High standards are applied while developing this community as the aim of the developers is to cater to the needs and demands of people both elite and middle class in the best possible manner. The payment plan for this place indicates this concern very well as it is planned by the authorities so conveniently and attractively.
This project is a very significant achievement of the developers as they have introduced new and exceptional living ideas to people. They understand the need and demand of a modern residence and applied some of the best development techniques to present something exceptional for the inhabitants of Faisalabad.
They have earned a reputation for delivering quality projects that meet the needs of their customers and offer a great return on investment. Developers also have an experienced team of experts who are dedicated to providing an efficient, hassle-free service for all customers.
The professionals and experts have provided a place of your dreams. Exceptional living quality and high standards are provided to people. By keeping in view the factors of excellence, modernism, quality, and sincerity, they aim to offer a remarkable and smart living place to people. Omega Residencia Faisalabad is truly a great development that has earned the developers a prestigious reputation in the real estate sector.
On-going projects Omega Villas Developers are following.
Omega Villas Faisalabad (coming soon)
Omega Residencia Homes
Omega Residencia Paradise (coming soon)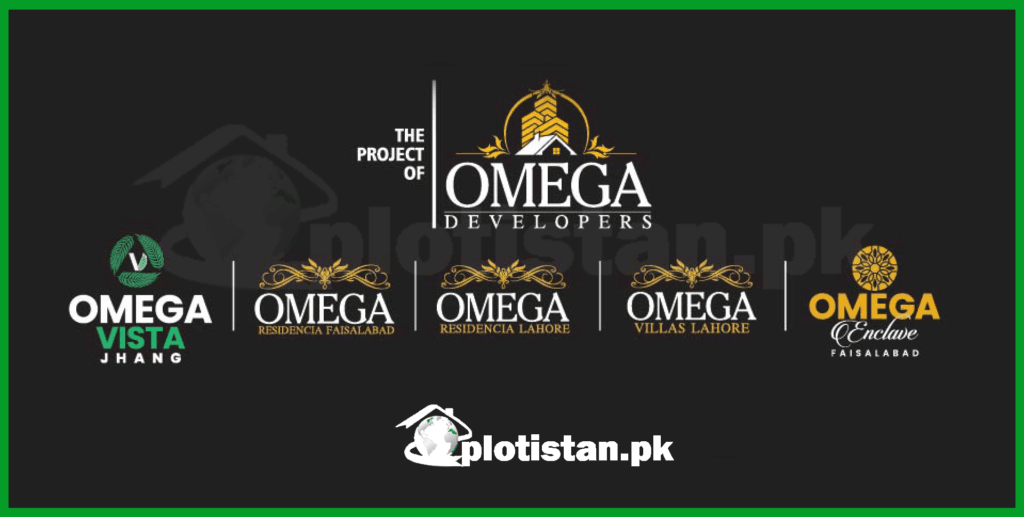 For Booking

0300-5846663
Click to Whatsapp
Investment Opportunities:
Investing in real estate can be a smart financial decision, and Omega Residencia Faisalabad offers plenty of investment opportunities. With the rapidly growing demand for housing in Faisalabad, this project is a great option for those looking to invest in a profitable venture.
ROI Expectations for Different Investment Options
Investing in Omega Residencia Faisalabad guarantees high returns on investment. The ROI expectations for different investment options are based on market trends and may vary over time.
Potential Return on Investment
The potential return on investment for Omega Residencia Faisalabad is expected to be high. The project is strategically located in one of the most attractive areas of Faisalabad, and the prices of the plots are expected to appreciate quickly over time. In addition, the project offers many amenities and features that are in high demand, such as security, modern infrastructure, and eco-friendly living spaces.
Analysis of Market Trends in Faisalabad
Faisalabad is one of the fastest-growing cities in Pakistan, and the real estate market in the city is thriving. The demand for housing is increasing rapidly, and there is a shortage of quality housing projects. Omega Residencia Faisalabad is well-positioned to take advantage of these market trends and provide high-quality, affordable housing to the people of Faisalabad.
Comparing Investment Options for Omega Residencia Faisalabad
Comparing investment options for Omega Residencia Faisalabad can help you make the right decision according to your investment needs and budget. It is crucial to discuss your options with our team to find the best possible investment opportunity for you.
For Booking

0300-5846663
Click to Whatsapp
Omega Residencia Faisalabad Facilities and Features
What are the first and the premier things you search for when you are considering buying a private property? There may be a rundown of necessities that undertakings may be given yet there a couple among them without which having a sensible existence is troublesome.
Model City Faisalabad figures out this reality and give the best and fundamental offices to you. Extravagant assumptions to the side, there are a few conveniences you shouldn't think twice about in the event that you are anticipating being satisfied. Here is a rundown of conveniences this spot offers to its occupants:
Extensive and Wide Roads
This place offers the best kind of infrastructure along with the beautiful and wide roads. It is a source of pleasure to walk or drive on them. The green belts around the roads add much to the beauty and attractiveness of this place.
Power Backup System
You do not need to be worried about the electrical failures or breakdowns while living in this place. It provides a power backup facility to its residents. Power outages are a common scenario in Pakistan but this place makes sure the continuous electricity supply.
Playing Spaces
Playgrounds and sports courts are developed within this project to offer an entertainment side to people. The recreational amenities could help you discover the finer side of life.
Security system
Omega Residencia provides a higher level of security like CCTV camera installed everywhere, firefighting equipment, video door phone and other facilities. This housing society provides 24/7 securities with guards stationed at all times at the entrance doors.
Maintenance Facility
This place has a maintenance staff which is very co-operative and helping. A busted pipe, an overflowing leakage can cause serious damage to your home. Having an on-site emergency maintenance staff can lessen the damage and get your life back to normal quickly.
Green landscapes
In this hectic life, there are moments when you need your peace of mind. When you are cutting through the city's traffic and noisy environment, you would want to escape into quieter spaces when you get back home. Omega Residencia has enormous land allotted to lush green landscapes and parks which are very delightful.
Gated Community
Underground water and sewerage system
Society's own power generation plants
Central Jamia Mosque
Lush Green Parks and Jogging Tracks
Health Centers and Clinics
Nearby Schools
Wide internal street decorated with beautiful street lights
Separate entrance and exit
Wide Roads
State-of-the-art infrastructure
Street Lights
24/7 Security
CCTV Surveillance
For Booking

0300-5846663
Click to Whatsapp
Why choose Omega Residencia Faisalabad?
Omega Residencia Faisalabad is the perfect choice for anyone looking for a luxurious and convenient housing solution. Located in Faisalabad, Punjab, the payment plan is flexible and easy to understand, making it an ideal choice for investors. The project is situated close to major roads and provides easy access to important urban facilities. It is a gated community with all the modern amenities such as 24-hour security, water supply, electricity, sewerage, drainage, and other modern facilities.
In addition to its ideal location, Omega Residencia Faisalabad also offers a well-designed infrastructure that promotes healthy living and business opportunities. With plenty of open green spaces, parks, and landscaped gardens, Omega Residencia Faisalabad provides the perfect environment for families to enjoy a comfortable lifestyle. With its secure and modern infrastructure, Omega Residencia Faisalabad offers the peace of mind that comes with investing in a high quality development.
The developers of Omega Residencia Faisalabad have released a detailed project plan that outlines all the features and amenities available in the area. The plan includes detailed information about the payment plan, location map, and various other aspects of the project. This allows potential buyers to make an informed decision when it comes to investing in Omega Residencia Faisalabad.
With its luxurious lifestyle, convenient location, and well-planned infrastructure, Omega Residencia Faisalabad is the perfect choice for any investor. If you're looking for a safe and secure housing solution, Omega Residencia Faisalabad is definitely worth considering.
There is a strong demand for properties in this area
Omega Residencia Faisalabad is a great place to invest in property due to the high demand for properties in this area. Located in the heart of Faisalabad, Omega Residencia Faisalabad has a strategic location that puts it close to all major attractions, transportation, schools and commercial areas. This makes it a desirable place for potential buyers and renters alike.
The project plan for Omega Residencia Faisalabad includes a convenient payment plan for those looking to invest in properties here. Buyers can choose from various payment options including full cash payment, down payments, installment plans and mortgage financing. This makes investing in Omega Residencia Faisalabad an attractive option for those looking to buy property here. Furthermore, Omega Residencia Faisalabad also offers rental options with flexible payment plans.
The location map of Omega Residencia Faisalabad also shows its proximity to different areas of the city. It is located in close proximity to all major hospitals, shopping malls, restaurants, schools and offices. This makes it a prime spot for potential investors. The project plan also includes easy access to public transportation and all the necessary amenities such as electricity, water and sewerage systems. All these features add to the desirability of Omega Residencia Faisalabad as an ideal place to invest in property.
Conclusion
For the most part, the driving elements for any property buy is the area and spending plan inclination of a purchaser. In any case, home purchasing is a perplexing cycle that it has all the earmarks of being. This trouble is addressed by the advancement of Omega Residencia Faisalabad. The personal satisfaction here for expats is incredibly high, and living easily on a somewhat unassuming budget is conceivable. It is among the top and most advantageous private tasks of Faisalabad which is planned and grown only and extraordinarily.
For Booking

0300-5846663
Click to Whatsapp
Latest Development Updates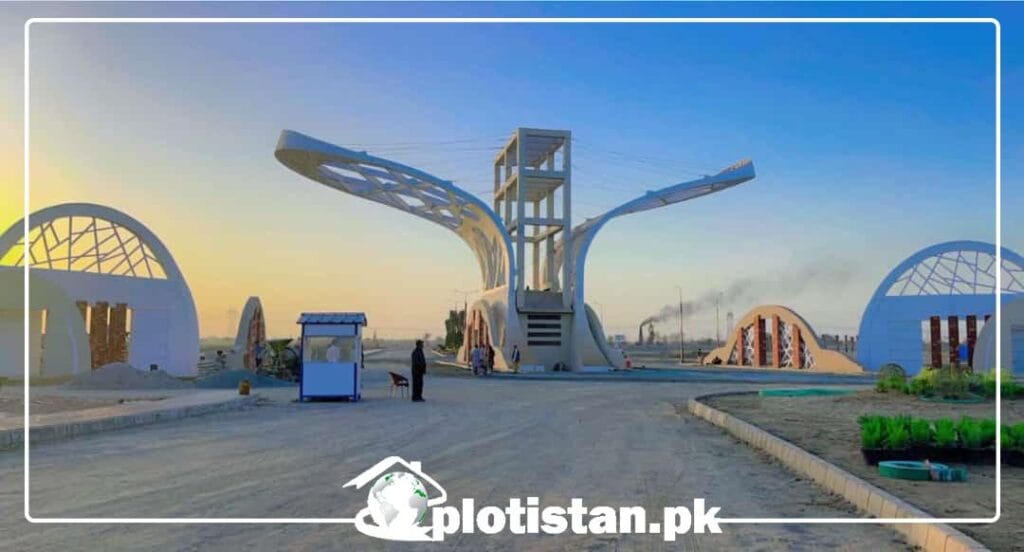 For Booking

0300-5846663
Click to Whatsapp
Commonly Asked Questions
At Omega Residencia Faisalabad, we understand that people may have questions about our housing scheme. To help, here are some of the most commonly asked questions about our project:
Which is the best colony of Faisalabad?
Omega Residencia Faisalabad is best Housing Colony in Faisalabad.
What is Omega Residencia Faisalabad?
Omega Residencia Faisalabad is a residential housing society located in the city of Faisalabad. It is an emerging project offering modern amenities, world-class facilities and an ideal residential environment.
Is Omega Residencia Faisalabad approved by FDA?
Omega Residencia Faisalabad is approved by Faisalabad Development Authority (FDA) under the following reference number.
Who are the developers of Omega Residencia Faisalabad?
The project is developed by Omega Villas Private Limited which has many years of experience in the real estate sector.
What is the payment plan for Omega Residencia Faisalabad
The payment plan for Omega Residencia Faisalabad is quite flexible and convenient. The buyers have the option to pay either through easy installments or on a lump sum basis. A 20% down payment is required at the time of booking, The remaining amount can be paid off in easy quarterly installments over a period of Five years.
What are the amenities available at Omega Residencia Faisalabad?
The society provides a range of modern amenities and facilities such as 24/7 power backup, uninterrupted water supply, round the clock security, advanced drainage system, jogging track, mosque, parks, sports facilities, commercial centers and much more.
Who is the owner of the housing venture?
Ch Sarwar is the owner of this housing venture.
Are electricity and gas available to the community?
Yes, both are approved and available to the community.
Where is Omega Residencia Faisalabad located?
It is situated at By-Pass Chowk Sargodha road Faisalabad near city housing Society Faisalabad.
How to Contact Us?
If you're interested in learning more about Omega Residencia Faisalabad and what it has to offer, you can get in touch with us via our website or by giving us a call. Our friendly team is always ready to answer any questions you may have. We also offer a variety of payment plans that make it easier for you to secure your dream home.
To make it even easier for you to find us, we've created a location map that shows you exactly where our housing society is located. You can use this map to plan your visit or to search for nearby amenities like schools, shops, and other attractions.
We look forward to hearing from you and helping you find the perfect place to call home!
For Booking

0300-5846663
Click to Whatsapp