Lahore Future City Housing Scheme is an ambitious residential project that aims to redefine urban living in Lahore, Pakistan. Developed with a vision to provide modern and sustainable housing options, Lahore Future City offers a range of residential and commercial plots in a strategic location. This article will provide an in-depth overview of the payment plan, location map, amenities, investment opportunities, booking process, and future development plans associated with Lahore Future City. Whether you are a potential buyer, investor, or simply curious about this exciting project, this article will serve as a comprehensive guide to help you navigate through the key aspects of Lahore Future City Housing Scheme.
Lahore Future City
Lahore Future City is a new and exciting housing scheme located in the heart of Lahore. With its modern infrastructure and prime location, it aims to provide residents with a luxurious living experience. The project is being developed by a renowned real estate company that has a track record of delivering successful housing projects.
This housing society will give you an area where you can spend the remaining of your life in luxury and comfort. Here the developers are presenting just a minimally calm and deluxe lifestyle.
The more highlighted fact of this project is that people highly recommended living here and the houses this venture provides are marvelous. Houses here are designed by employing a chic and crowd-pleasing interior and exterior while the architecture of the whole society is completely pre-planned.
Vision and Objectives
The vision of Lahore Future City is to create a sustainable and inclusive community where residents can enjoy a high standard of living. The housing scheme aims to offer affordable housing options without compromising on quality and amenities. The project also focuses on creating a secure and environmentally friendly environment for its residents.
Lahore Future City Payment Plan
Lahore Future City offers a variety of plot sizes to cater to different needs and budgets. The pricing of the plots is competitive and affordable, making it an attractive option for potential buyers. Whether you are looking for a small residential plot or a larger commercial plot, you will find options that suit your requirements.
To make it easier for buyers, Lahore Future City offers flexible down payment options. You can choose to pay a percentage of the total amount upfront or opt for a staggered payment plan. This allows buyers to manage their finances more effectively and comfortably.
The installment plans offered by Lahore Future City are designed to suit the needs of different buyers. The project offers various installment options, allowing buyers to choose a plan that suits their financial capabilities. The installment schedule is also carefully crafted to ensure timely payments and hassle-free transactions.
Residential Payment Plan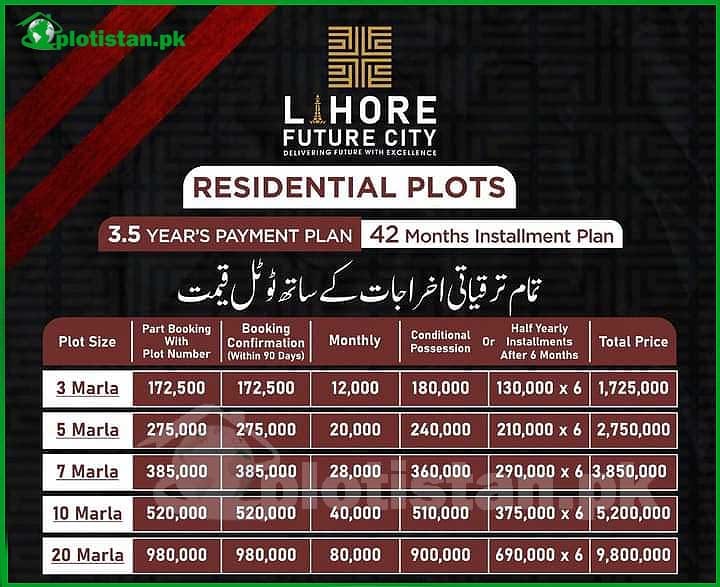 Commercial Payment Plan
Lahore Future City Location Map
Lahore Future City is strategically located in a prime area, offering easy access to major highways and commercial centers. Its convenient location makes it an ideal choice for both residents and investors looking for promising real estate opportunities.
Lahore Future City Housing Society is located on the main Sharaqpur Road. The project is Only 7 minutes away from Multan-Karachi Motorway and Ravi Toll Plaza. The housing scheme is surrounded by various landmarks such as shopping malls, educational institutions, and healthcare facilities. Residents will have easy access to all the essential amenities required for a comfortable and convenient lifestyle.
Lahore Future City is well-planned and designed to provide residents with state-of-the-art infrastructure and connectivity. The road networks within the scheme are wide and well-maintained, ensuring smooth traffic flow. The housing scheme also provides modern facilities such as underground utility lines, a robust sewerage system, and reliable power supply.
Lahore Future City Developers
Lahore Future City is a project of Al Buraq Developers. The developer is known for its large-scale housing projects and infrastructure development across various cities in Pakistan. The company has undertaken several mega projects, including BB Chempack Industries Pvt Ltd.
The developers of this housing venture are one of the leading organizations in the real estate sector of Pakistan. They have done many other projects as well and have always strived to provide the highest standards of workmanship, with modern project management techniques and the latest technology.
It diverse the experience of the real estate sector in their respective domains and believes that both expertise & qualification produces reliable dynamic organization.
Besides all the benefits and facilities that this society provides to its residents, there's a great opportunity for the investors too to invest here. Prices are affordable, investment plans are great and cheap, what else can you wish for when you have all the facilities in one place.
Lahore Future City Project Plan
The project is a masterly planned scheme that has been designed to the standards of modern construction methods to provide convenience to the residents. It is a beautiful project which is premeditated on vast land and installed with each and every necessity of life.
The housing project spans over 1200 Kanal and provides various amenities and facilities to its residents. These include schools, hospitals, commercial areas, shopping malls, parks, mosques, and recreational facilities like golf courses and sports complexes. The infrastructure in Lahore Future City is designed to provide a high standard of living and a secure environment for its residents.
It offers an extensive array of residential and non-residential plots and every unit have a separate installation of facilities to give a comfy living to the residents.
One thing that was kept mainly in focus is that society has to provide opportunities to the middle-class families and small families that's why it offers plots of small sizes to large sizes i.e. 2,4 Marla commercial and 3 Marla, and 5 Marla, 7 Marla, 10 Marla, and 1 Kanal residential and those too at the lowest possible prices.
Apart from all this the residents of this small project don't have to leave the premises in search of any kind of basic facility because it provides all the facilities to its people and everything is available within its boundary walls.
A clean and wide road network, water and gas availability, community center, health care units, shopping malls, educational units, playland, and parks within a gated community is not a feast for investors.
Amenities and Facilities in Lahore Future City Housing Scheme
Residential and Commercial Facilities
Lahore Future City offers a range of residential and commercial facilities to cater to the diverse needs of its residents. From beautifully designed houses and apartments to well-equipped commercial areas, the project aims to create a vibrant and self-sustained community.
Recreational and Leisure Amenities
Residents of Lahore Future City will have access to a wide range of recreational and leisure amenities. The project includes parks, jogging tracks, sports facilities, and community centers where residents can socialize and engage in various activities. These amenities aim to promote a healthy and active lifestyle.
Educational and Healthcare Facilities
Recognizing the importance of quality education and healthcare, Lahore Future City provides easy access to reputable educational institutions and healthcare facilities. Residents can enroll their children in nearby schools and colleges, while medical centers and hospitals are available in close proximity to cater to any healthcare needs.
Below are briefly described features that the society offers:
150 ft. main Boulevard.
Street Lights.
The wide main entrance provides an eye-catching view.
Schools & Colleges are built to ensure that your children get standard education.
A network of Carpeted roads.
Parks for children.
Fully Functional Health Center with 24/7 facilities.
Branded Shopping shops.
Gym facilities.
Mosques.
Community Centre fulfilling all your needs.
Sports complex with different indoor and outdoor gaming.
Maintenance Staff to make sure everything is maintained and in working condition.
A well-built sewerage system.
24/7 security and camera surveillance.
Water Supply.
Shopping Malls with all the facilities and brands under one roof.
Restaurants provide you with quality food.
Community's Grand Mosque.
Water filtration plants.
Carpeted roads.
Community's Gymnasium.
Investment Opportunities and Benefits
Potential Return on Investment
Investing in the Lahore Future City Housing Scheme offers promising potential returns. With its strategic location and well-planned infrastructure, the value of properties in this scheme is expected to appreciate significantly over time. As Lahore continues to grow and attract more residents, the demand for housing in well-developed and accessible areas is on the rise.
Growth Prospects and Market Analysis
Analyzing the market trends and growth prospects of Lahore Future City Housing Scheme reveals a positive outlook. The scheme's location in close proximity to major commercial hubs and transportation links makes it an attractive choice for both residents and investors. The real estate market in Lahore has been witnessing steady growth, and this scheme is likely to benefit from that trend.
Comparison with Other Housing Schemes
When compared to other housing schemes in Lahore, the Lahore Future City Housing Scheme stands out due to its unique features and advantages. The scheme offers a well-planned layout, modern amenities, and a prime location, making it a desirable option for potential buyers. It's important to compare the offerings, payment plans, and location of different housing schemes to make an informed decision.
Future Development Plans and Projections
Expansion and Phase-wise Development
The Lahore Future City Housing Scheme has ambitious plans for future expansion and development. The scheme is designed to be developed in multiple phases, ensuring a systematic approach to infrastructure and amenities. This phased development strategy indicates a well-thought-out project that aims to cater to the growing needs of residents.
Infrastructure Upgrades and Timeline
The scheme's future development plans encompass significant infrastructure upgrades. These upgrades may include the construction of roads, parks, schools, and other essential facilities to enhance the quality of life for residents. Timelines for these upgrades may vary depending on the specific phase and overall project progress.
Potential Impact on Property Value
The future development plans of the Lahore Future City Housing Scheme are likely to have a positive impact on property values. As infrastructure and amenities improve, the demand for properties within the scheme is expected to rise, leading to potential appreciation in property values. Investing early in the scheme may offer long-term benefits.
Conclusion and Final Thoughts on Lahore Future City Housing Scheme
The Lahore Future City Housing Scheme presents an exciting investment opportunity in a prime location. With promising potential returns, well-planned infrastructure, and future development plans, this scheme has a lot to offer to both residents and investors. However, it's essential to conduct thorough research, compare options, and consider personal requirements before making a decision. Investing in real estate is always a big step, but with the right information and a well-thought-out approach, it can be a rewarding experience.
Lahore Future City Housing Scheme offers a promising opportunity for those seeking modern and sustainable living spaces in Lahore. With its strategic location, well-designed payment plans, and a wide range of amenities, the project presents a compelling investment option. Whether you are looking for a dream home or a profitable real estate venture, Lahore Future City has the potential to fulfill your aspirations. As the project progresses and future development plans unfold, it is expected to further enhance its value and attract more investors. With its vision for a vibrant and thriving community, Lahore Future City is poised to shape the future of housing in Lahore.