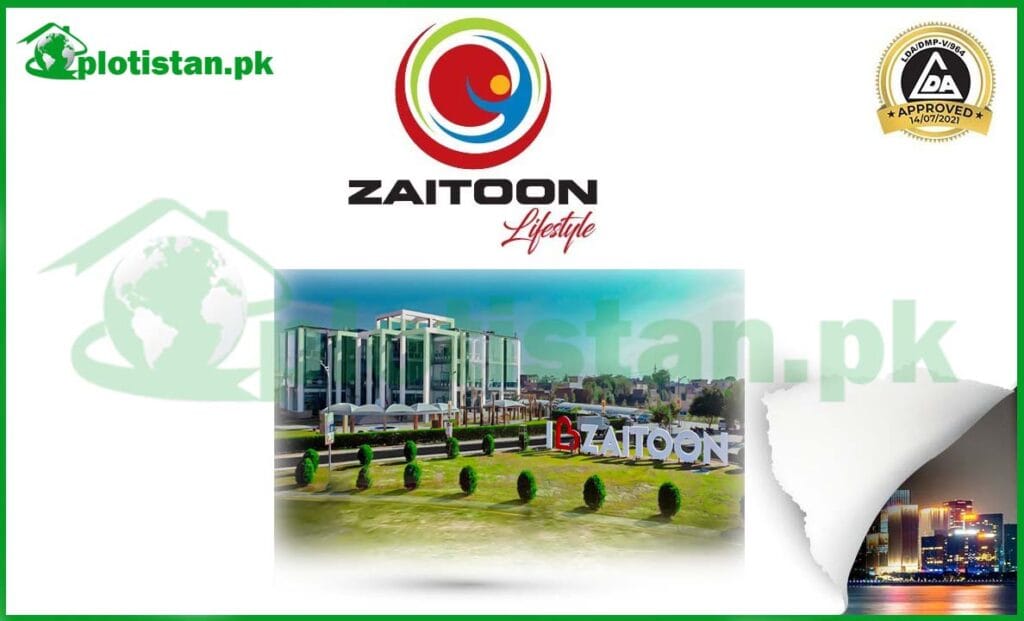 The housing need has been increased in the city due to which many new housing societies have been developed in the past few years. Zaitoon Lifestyle Lahore is an exceptional real estate development that offers a contemporary and luxurious lifestyle to its residents. This article aims to provide a comprehensive overview of Zaitoon Lifestyle Lahore, focusing on its payment plan for the year 2023 and the location map.
This housing scheme has all the potential to redefine the living standards of people in the midst of comforts. This place will offer the best living environment close to all the facilities of life. All the properties in Zaitoon city are designed and planned according to the global trends where living would be an incredible experience for everyone. You will enjoy the desirable privacy, space, and exclusivity with attractive prices.
Lavish comforts and conveniences are available to you at this lavish and convenient living place. The amalgamation of the perfect location, affordability, and exclusiveness makes it the most outstanding development in Lahore. Planned to be your asset forever, plots for sale in Zaitoon city are very well equipped with all the essential features and facilities. An exceptional value and class will be attached to your lifestyle after choosing this place as your residence. This place adds delight and taste of your living with its exceptional offers.
For Booking

0300-5846663
Click to Whatsapp
Zaitoon Lifestyle Lahore Payment Plan
It is not necessary to live exceptionally and luxuriously, you always have to pay high rates. It is common thinking that such a great project may have very high rates of properties but this is not so. Zaitoon Lahore City is offering a very appealing and flexible payment plan for people who want high returns and advantages with affordable investment at the start.
After going through the detailed payment plan for this project, you will get to know that it is also very appealing like the other features of Zaitoon Lifestyle Lahore. The properties here provide golden opportunities for people. All are reasonably priced. The future prices of the properties of this project will definitely increase and it is the best time to make a deal to get desired profits. Here the residential and commercial plots in different sizes are available from which the investors or buyers can choose according to their needs.
Because of the tempting payment plan, Zaitoon city is the most coveted investment destination attracting a large number of people to booking their plots here. Investors must prefer this place because of capital appreciation while the prices of all properties for sale are reasonable and growth in value is guaranteed.
Zaitoon City is currently offering commercial and residential projects of various sizes. The booking of these apartments can be made by a certain amount of down payment and the rest of the payment can be made as per your chosen installments plan offered by the developers.
Zaitoon City Residential Plots Payment Plan
| | | | | | |
| --- | --- | --- | --- | --- | --- |
| Plot Size | Total Price | Booking | Confirmation after 60 Days | 36 Monthly Installments | 7 Bi-Annual Payments |
| 3-Marla | 2,250,000 | 275,000 | 176,000 | 20,806 | 150,000 |
| 5-Marla | 3,750,000 | 450,000 | 300,000 | 30,476 | 215,000 |
| 10-Marla | 6,850,000 | 685,000 | 685,000 | 57,500 | 383,125 |
| 1-Kanal | 13,000,000 | 1,300,000 | 1,300,000 | 97,500 | 788,125 |
Zaitoon City Commercial Plots Payment Plan
| | | | | | |
| --- | --- | --- | --- | --- | --- |
| Plot Size | Total Price | Booking | Confirmation | 36 Monthly Installments | 6 Bi-Annual Payments |
| 4-Marla | 10,200,000 | 1,530,000 | 1,020,000 | 93,333 | 715,000 |
| 6-Marla | 15,000,000 | 2,250,000 | 1,500,000 | 133,333 | 1,075,000 |
| 8-Marla | 19,200,000 | 2,880,000 | 1,920,000 | 160,000 | 1,440,000 |
Tulip Overseas Enclave Block Payment Plan
| | | | | | |
| --- | --- | --- | --- | --- | --- |
| Plot Size | Total Price | Advance | 48 Monthly Installments | 8 Bi-Annual Installments | After 15 Months |
| 3-Marla | 2,250,000 | 225,000 | 17,500 | 137,500 | 190,000 |
| 5-Marla | 3,750,000 | 375,000 | 27,500 | 230,000 | 380,000 |
| 7-Marla | 4,800,000 | 480,000 | 39,762 | 275,000 | 450,000 |
Zaitoon 3 Marla Villa Payment Plan
| | | | | | | |
| --- | --- | --- | --- | --- | --- | --- |
| Villa Size | Selling Price | Down Payment | Confirmation after 90 days | 36 Monthly Installments | 7 Bi-Annual Installments | On Possession |
| 3-Marla | 6,000,000 | 1,020,000 | 300,000 | 39,444 | 380,000 | 600,000 |
Zaitoon 5 Marla Villa Payment Plan
| | | | | | |
| --- | --- | --- | --- | --- | --- |
| Villa Size | Selling Price | Down Payment | 36 Monthly Installments | 7 Bi-Annual Installments | On Possession |
| 5-Marla | 11,500,000 | 2,300,000 | 102,778 | 500,000 | 2,000,000 |
For Booking

0300-5846663
Click to Whatsapp
Zaitoon Lifestyle Lahore Location Map
Location is everything, and Zaitoon Lifestyle Lahore knows it. Situated in a prime location, this development is surrounded by a thriving infrastructure that puts everything you need within reach. From schools and hospitals to shopping centers and entertainment options, you'll find it all just a stone's throw away.
Zaitoon City is going to offer the best residential opportunities to people while located on Main Canal Bank Road. It is the second top-class project of Zaitoon Group which enjoys the ideal and beneficial location of Canal Road from where all the facilities are closely available. All the important developments and housing schemes are closely connected to this place including Bahria Town.
Allama Iqbal International Airport is only 20 to 25 minutes away from this housing scheme. This location of Lahore is emerging as the finest place to buy the property where the value and demand of plots will continue to increase. Connectivity to Ring Road and access to all the important points of Lahore adds more to the worth of this project. DHA and Ferozpur Road are also in close proximity to this housing scheme while Multan Road is just 3 minutes drive away. You will find the best residential environment here while having all the essentials close.
Convenience is key, and Zaitoon Lifestyle Lahore hits the mark. With its strategic location, you'll enjoy the luxury of being close to key landmarks and facilities. Whether you need to run errands or indulge in some leisure activities, everything you desire is conveniently located nearby.
01-minute drive from Ring Road
15-minute drive away from Thokar Niaz Baig
16-minute drive away from Shaukat Khanum Hospital
18-minute drive away DHA Lahore
20-minute drive away from Allama Iqbal International Airport
22-minute drive away from Motorway
Near to  Park Avenue, Liberty Lands, and Etihad Town Phase 2. It is on the right backside of Lake City and adjacent to Khayaban-e-Amin.
For Booking

0300-5846663
Click to Whatsapp
Zaitoon Lifestyle Lahore NOC:
NOC of Zaitoon Lifestyle Lahore is approved by Lahore Development Authority (LDA).
LDA/DMP-IIII/1319. The society has obtained NOC for its land and master plan.
For Booking

0300-5846663
Click to Whatsapp
Zaitoon Lifestyle Lahore Developers
The developers are highly experienced in the field of real estate and they have a team of professionals who will ensure that the vision of Zaitoon Lifestyle becomes reality.
It is a project of Zaitoon Group that is a very renowned group in the real estate sector of Lahore. The group is known for its quality work, on-time delivery, and customer satisfaction. For the last 30 years, The Zaitoon Group has delivered many successful projects within the required time frame.
It is a perfect example of urban renewal and development where high standards are introduced in every way. Unique quality and high standards are set for the people who choose this place. With the aspiration and growth, the developers through this excellent project fulfill the dreams of the desires of families. The trustworthiness and excellence of the developers of this place are unbeatable. Integrity, sincerity, hard work, and quality are the core characteristics on which Zaitoon city is built.
On-time delivery and exceptional approach make them stand unique in the market with everything they offer in their projects. The basic requirements and desires of the clients and customers are highly considered in order to provide them with a place beyond their expectations. The project has been artistically designed to provide a modern and most advanced outlook to the residents of Zaitoon city.
The developers have delivered the following projects.
Center Point Plaza Gulberg
Japan Center Lahore
Landmark Plaza Gulberg Lahore
Lucky Center Qartaba Chowk Lahore
New Lahore City
Zaitoon City Lahore
Zaitoon Lifestyle Lahore Project Plan
Zaitoon City is a massive development plan where living and investment come with extraordinary benefits. Located ideally on Canal Road, this housing scheme is going to presents you with a pioneering lifestyle. This premium residential project is developed close to all the basic and advanced facilities of life while spreading over a huge amount of land.
This pioneered and LDA Approved housing scheme is inspired by the international development concepts and host a lot of the finest lifestyle amenities to ensure contemporary living. This project is offering residential plots for sale and commercial plots for sale in different sizes with competitive prices while all the properties are bestowing excellent offers for their buyers with the best market value, future returns, and resell value.
This top-most project of Lahore is offering you an exclusive and desirable lifestyle surrounded by all the facilities. Planned exclusively, this housing scheme has so much to offer those who choose it for their living. This place is developed on advanced and new modes of living while its approach is very advanced and modern with an exceptional lifestyle.
Zaitoon city has so much to offer you while all your living and investment cravings will be fulfilled here. Moreover, it is a safe, secure, and advanced place to live. Booking your desirable property here is very easy because of affordable rates and easy booking procedure. Here the exclusive amenities and amazing facilities make it possible for you to enjoy a life for which you have dreamed and desired for.
For Booking

0300-5846663
Click to Whatsapp
Investment Opportunities
Putting resources into land can be a brilliant monetary choice, and Zaitoon Lifestyle Lahore offers a lot of speculation potential open doors. With the quickly developing interest for lodging in Faisalabad, this undertaking is an extraordinary choice for those hoping to put resources into a beneficial endeavor.
ROI Expectations for Different Investment Options
Investing in Zaitoon Lifestyle Lahore guarantees high returns on investment. The ROI expectations for different investment options are based on market trends and may vary over time.
Potential Return on Investment
The possible profit from speculation for Zaitoon Lifestyle Lahore is supposed to be high. The undertaking is decisively situated in one of the most appealing areas of Lahore, and the costs of the plots are supposed to see the value in rapidly after some time. Furthermore, the undertaking offers numerous conveniences and elements that are sought after, like security, present day foundation, and eco-accommodating living spaces.
Analysis of Market Trends in Lahore
Lahore is quite possibly of the quickest developing city in Pakistan, and the housing market in the city is flourishing. The interest for lodging is expanding quickly, and there is a deficiency of value lodging projects. Zaitoon Lifestyle Lahore is strategically situated to exploit these market drifts and give superior grade, reasonable lodging to individuals of Faisalabad.
Comparing Investment Options for Zaitoon Lifestyle Lahore
Contrasting speculation choices for Zaitoon Lifestyle Lahore can assist you with settling on the ideal choice as indicated by your venture needs and financial plan. It is significant to talk about your choices with our group to track down the most ideal speculation opportunity for you.
For Booking

0300-5846663
Click to Whatsapp
Why choose Zaitoon Lifestyle Lahore?
Zaitoon Lifestyle Lahore is the ideal choice for anybody searching for an extravagant and helpful lodging arrangement. Situated in Lahore, Punjab, the installment plan is adaptable and straightforward, making it an optimal decision for financial backers. The undertaking is arranged near significant streets and gives simple access to significant metropolitan offices. It is a gated local area with every one of the cutting-edge conveniences, for example, 24-hour security, water supply, power, sewerage, seepage, and other present-day offices.
Notwithstanding its ideal area, Zaitoon Lifestyle Lahore likewise offers a very well-planned foundation that advances sound living and opens doors for business potential. With a lot of open green spaces, stops, and finished gardens, Zaitoon Lifestyle Lahore gives families the ideal climate to partake in an agreeable way of life. With its protected and present-day foundation, Zaitoon Lifestyle Lahore offers the genuine serenity that accompanies putting resources into a top-notch improvement.
The Developers of Zaitoon Lifestyle Lahore have delivered a point-by-point project plan that frames every one of the highlights and conveniences accessible nearby. The arrangement incorporates point-by-point data about the installment plan, area map, and different parts of the Project. This permits expected purchasers to settle on an educated choice with regards to putting resources into Zaitoon Lifestyle Lahore.
With its luxurious way of life, advantageous area, and all-around arranged foundation, Zaitoon Lifestyle Lahore is the ideal decision for any financial backer. On the off chance that you're searching for a free from even a hint of harm lodging arrangement, Zaitoon Lifestyle Lahore is most certainly worth considering.
For Booking

0300-5846663
Click to Whatsapp
There is a strong demand for properties in this area
Because of the popularity of properties around here, Zaitoon Lifestyle Lahore is a magnificent area to put resources into. Zaitoon Lifestyle Lahore is decisively situated in the core of Lahore, near every single significant fascination, transportation, school, and business region. This makes it a supportive spot for anticipated buyers and their equivalents.
A helpful installment plan is remembered in the Zaitoon Lifestyle Lahore project plan for individuals who need to put resources into properties here. Buyers can investigate different portion decisions, including full cash portions, introductory speculations, segment plans, and home advance support. This makes placing assets in Zaitoon Lifestyle Lahore an engaging decision for those expecting to buy property here. Furthermore, Zaitoon Lifestyle Lahore provides rental options with versatile installment plans.
In like manner, the region guide of Zaitoon Lifestyle Lahore shows its proximity to different districts of the city. It is arranged in close proximity to each and every critical facility, including retail outlets, bistros, schools, and working environments. Subsequently, it is an optimal area for possible financial backers. Furthermore, the Project plan incorporates all fundamental conveniences like power, water, and sewage frameworks as well as simple access to public transportation. This enormous number of features adds to the engaging quality of Zaitoon Lifestyle Lahore as an ideal spot to place assets on property.
For Booking

0300-5846663
Click to Whatsapp
Facilities and Features
It is an exclusive residential project where life will make sense to you every day. The modern facilities, features, and amenities make it the ideal and desirable living place for all. All the aspects of life are made comfortable by making sure the provision of the basic and advanced facilities of life. A remarkable life cannot be attained without the essentials and facilities in life. The best indoor and outdoor services are available here.
Lush green environment: Most of us are interested in keeping ourselves more with nature and less with artificial things. But here at this point, Zaitoon city is proud to present the lush green atmosphere around the most modern and urbanized infrastructure. The whole community is packed with various landscapes and lush parks to ensure peaceful, healthy, and serene surroundings to the residents.
Beautiful Community structure: The structure of the housing scheme is planned to be kept very simple and modern. Throughout, advanced development ideas and trends are applied. The entrance is beautiful while all the properties are located ideally within the society with good access to roads and other attractions.
Mosque: One of the most important facilities which are featured by the society is the religious place for the Muslim community, and for that purpose, there are well-crafted mosques that are developed keeping in mind the requirement of every Muslim sect.
Sewerage system: The next most important thing is the sewerage system and this is the main focus of every housing scheme to develop such sewerage systems that are maintained and which are basically easy to maintain. No need to dig the roads and fix the pipes everything has been sorted and inbuilt. That makes this society very perfect for living that their main focus is to provide the best for the residents.
Commercial area: There are many commercial areas within the society and different sectors have different commercial areas. So basically we can divide them accordingly and that would be dividing them into different categories:
Shopping malls: These are under the plan which will be constructed in the main market of both phases of the society separately. There will be shops and brands so that residents could avail the facility in society.
Grocery Shops: Every sector has its grocery shop which is in the commercial market to provide convenience to the residents. People do not need to go much away from their homes to buy the basic necessities of life as everything is closely available.
Hospitals: As we all have seen in the Zaitoon city Location map that it is very close to the city of Lahore like just a few minutes away even then there are plans of creating different clinics and hospital in both the phases so that the residents could avail the facility of health care within the premises of society as well.
Educational Facilities: One of the best parts of this society is the schools and educational complexes which are a few minutes away for providing quality education as it is the most important aspect of life, there is many other educational organization which is really well known and near to the society.
Wide and fully maintained roads: The main road and the roads in the society are developed before the construction was done so that there was a nice and pleasant image that could be observed by the residents that the main focus is to provide easier and urbanized resources and roads are included in them.
Parks and jogging tracks: For entertainment and promoting physical activities, there are many parks that belong to various sectors these parks also include jogging tracks for fitness lovers and swings for children. You can enjoy these both at the same time this infrastructure is adopted from the foreign style of architecture.
Gymnasium and sports complex: For every member, there is a seat in the gymnasium. Get the membership and avail the awesome fitness-relevant facilities with the sports complex and the swimming pool. Amazing instructors are appointed for guidance and services.
Water purifying plants: In Pakistan, there is a very big issue of pure water. For that, there are many water plants within the society for providing filtered and purified water to all the residents. The proper and hygienic water supply is assured by the authorities to those who choose to live in Zaitoon City.
Electricity: There is no area in Pakistan where lights come all the time but there are areas such as areas as Zaitoon city where load shedding is minimized and reduced due to the society generators. No climatic issues are faced due to strong wiring and no weather conditions cause the issues in the electricity supply.
Sui Gas: Zaitoon City offers the best utilities and basic necessities to its residents as all the plots in this housing scheme have proper Sui gas connections. Even in the winter season, the residents won't face Sui Gas load-shedding issues.
Zaitoon Adventure Park: The best recreational options are available to the residents of this place. The unmatched attractions here increase the demand and value of this venture.
Highly Alert Security: There is no compromise when it comes to the security of the residents in the society that is the reason why there is a full force which acts like the team and CCTV cameras are also fixed on the streets and the gates of the society remain close, only relevant people are allowed to enter.
Conclusion
The unique approach, serene surroundings, luxurious facilities, and the happening neighborhood of Zaitoon City together make it a perfect living and investment destination. The deluxe environment provides people with an opportunity to live with style, standards, and quality. This place perfectly fulfills the demands of high quality and exceptional living with the prime location and affordable range.
For Booking

0300-5846663
Click to Whatsapp